On Saturday we had the pleasure of catering at one of our client's family holiday dinners. Every year the Green family get together at Easter to spend some quality time together and by enlisting Hog Roast Goole to share some delicious food.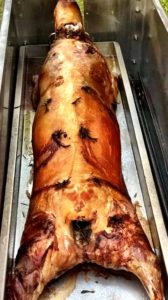 Duncan was in charge of the planning of the food for the family holiday. When he booked us several weeks ago, he mentioned that on these trips they usually just have a mismatch of food and on the last day together have a 'feast' of all the leftovers. However, this year he had taken it upon himself to organise something extra special for the family's last day by booking us at Hog Roast Goole!
As always, we were delighted to be asked and quickly got to work preparing a menu for Duncan and his family members. When booking Duncan stressed to us that although tradition was important in terms of an Easter roasted leg of lamb it was also essential there was something to suit everyone. With two fussy kids he was concerned they may turn their nose up at our catering as we were told they usually do with anything that isn't fish and chips! Well of course Hog Roast Goole are confident in our catering abilities and we were certain that the children would enjoy our food as they always do at our events however we agreed it would probably be wise to bring along some burgers and sausages just in case to ensure no one went hungry!
Well, we needn't have worried about that! After several hours of cooking the lamb at the family's holiday home, we had been constantly watched by the kids who were practically drooling just from the smell of the lamb slowly roasting away. When we finally served up our food Duncan was impressed to see his kids not only gulp it down at an incredible pace but in fact queue up for seconds! With the children's seal of approval, we considered the day as a job well done for Hog Roast Goole!