With lockdown restrictions lifting in some parts of the country from as early as next week onwards, Hog Roast Wyke has been counting down the days until December begins, which for us, signals the start of a very busy month. Between Christmas lunches, office parties and long-awaited family reunions, not to mention birthday celebrations and wedding receptions, our catering crews have a full four weeks of excitement laid out in front of them!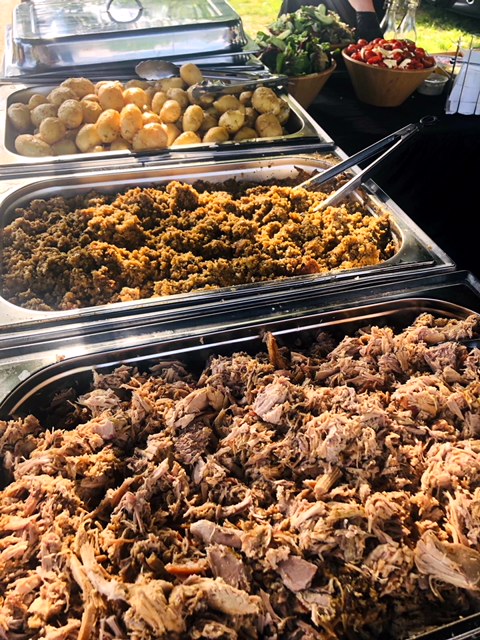 To kick off the festivities, Hog Roast Wyke has been asked along to a corporate event which has been organised by Matt, the manager of a local call centre. With Christmas coming up, the client is keen to give back to the community in some way, and after mulling over a few ideas, he decided to arrange a small charity fundraising event among the staff at the office.
Knowing that no event would be complete without some mouth-watering grub, Matt reached out to us last week to discuss catering options, and lucky for him we had a spot in our diary, which suited his needs perfectly. With the ball rolling, our catering manager began recommending menus for the day, and almost immediately, the classic hog roast menu won the client over.
Comprising of a juicy, slow roasted pig with all the traditional trimmings, this delectable feast is ideal for impressing guests at any sized function. So, whether you're feeding hog roast enthusiasts or those who are new to the ancient cooking method, this spread is sure to turn up the heat on your event and have people talking about it for years to come. What's more, we can even include our tasty vegetarian, and vegan dishes of BBQ pulled jackfruit or grilled veggie kebabs to the menu if required.
For Matt, this was exactly, the kind of vibe he had been looking for, and after finding the perfect menu, he placed his booking with Hog Roast Wyke immediately.
The day of the special event can't come quick enough, and with the office already buzzing with excitement, Matt is hoping to raise some funds for a fantastic cause.