Here's a photo of Andy at Elaine Gee's Hog Roast Esholt, a thoughtful House warming/welcome home party for her daughter  – she was just back from Australia in time for us to beat them at The Ashes!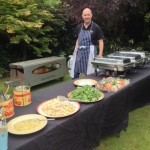 Elaine said the pork was perfect and everybody was over the moon with their lunch. Luckily, once again the sun came out at Hog Roast Esholt to make the party even more memorable. She will be using Spitting Pig Yorkshire again and will definitely recommend us to her friends.
Hog Roast Esholt had a fantastic day with all the guests at the event and once competed the clear up, we left the guests to enjoy the leftovers after having sunken a few cheeky cocktails.