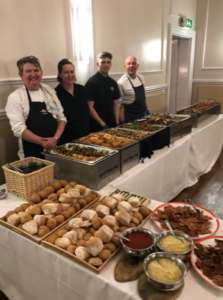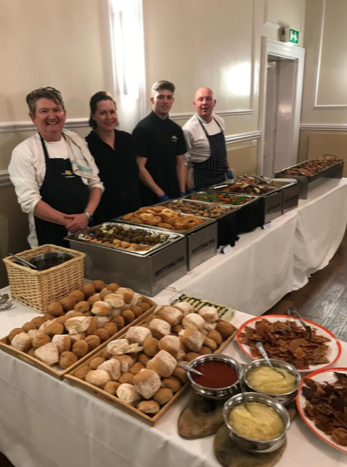 Hi my name is Jon, head chef and proprietor of Spitting Pig Yorkshire, the business is run from our headquarters in the rural village of Thackley, West Yorkshire. My passion for catering was born at an early age and over the last few years has been centered around hog roasting. Using freshly sourced local ingredients, our pigs come from Charles at Mount Grace farm in Thirsk I like to think I have brought a little bit of the Australian tradition of eating out doors and having fantastic bbq's and whole pig roasts to Yorkshire.
We are a stone's throw from the World Heritage listed village of Saltaire, once the heart of Yorkshire textile manufacturing, now a busy cultural hub, home to an annual two-week cultural festival and housing the world's only permanent David Hockney exhibition in the stunningly re-purposed surroundings of the 1853 Gallery, Salts Mill.
Our central Yorkshire location and extensive local knowledge provide reassurance that your event will be easily yet carefully organised by our professionally qualified and certified chef-owner Jon King and assistant Andy Turner.
Australian-born Jon has been living in Yorkshire for the past eight years with his young family and has worked as a chef internationally for the last twenty five. He has extensive catering and banqueting experience – successfully managing his own business in Melbourne before accepting the opportunity to run the wedding function centre and restaurant in his home-town City Gardens Cafe located within the heritage venue of the riverside Brisbane Botanical Gardens. He has been based in Saltaire for the past seven years.
Born-and-bred Yorkshireman Andy is now back in Bradford but has built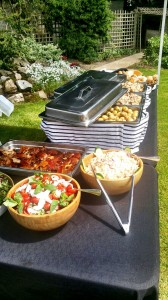 up valuable and varied work experience during his professional career – including working on the Channel Island of Sark as Head Chef of Stocks hotel – Tripadvisor's 'Small Hotel of the Year 2015'. Andy was also Head Chef of The Bradford Club – a private member's club where he was employed for eight years. He was trained, has raised his family and has enduringly supported the Bradford Bulls from his Yorkshire home and is very happy to now be a small business owner in this thriving county.
Spitting Pig has become the finest provider of hog and spit roast catering at events all over Yorkshire. From recommendations, testimonials from our numerous customers as well as feedback from local media outlets – all the information we receive supports the fact that the effort and dedication we put into getting it right for our clients is paying off.
Where many catering companies out there concentrate on simply getting the job done – we go the extra mile every time, as we believe that this is what paying customers deserve. By doing so, not only do we ensure that the events of those who inhabit the region are superb, but we also aid ourselves, as repeat business through word of mouth constitutes the bulk of our significant growth as a purveyor of Halifax hog roast and spit roast catering at the venues of our clients.
Passionate Caterers
Myself (Jon) and Andy began working in the catering industry many years ago and it has always been our chosen profession. In our daily lives we are tasked with the production of excellent food and service, so working to exceptionally high standards is part of who we are. Its the reason why were tasked with the production of gourmet catering at so many venues around the world.
When we entered the arena of Hog Roast Wakefield catering, we knew no other approach than the most exacting one. In terms of ingredients, our chefs and our service – our approach revolves around giving the customer perfection when it comes to the food at their events.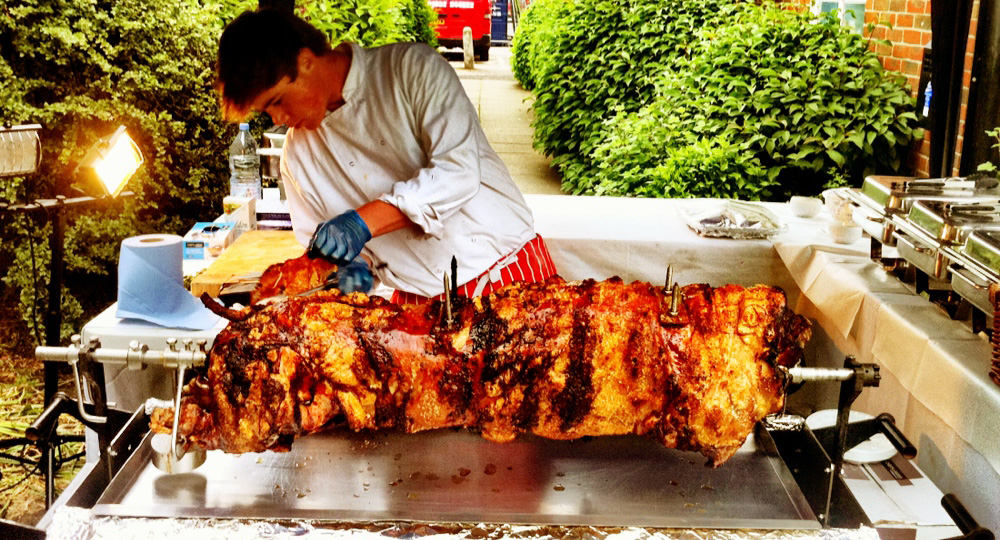 First of all, the meat which we use on our spit poles is all ethically and locally sourced – something which we attach a huge amount of importance to. Unfortunately, there are many Yorkshire hog roast and spit roasting catering providers who use cheap and poorly reared meat in order to cut down on their costs. This is a terrible shame, as the food quality is nowhere near as good and as tasty as it should be – which often results in people being given a poor service for their money. As well as this, the ill treatment of animals is not something we condone, so it is doubly terrible that this should take place. Instead, the pigs we use are packed full of flavour – allowing the catered service to maximise the potential which using the flame based spit roast gives.
With a solid technical background in hospitality, we ensure that all of our events are thoroughly well thought out. Believing that poor organisation and lack of attention to detail is a sure way to incite failure – all of our hog roast catered events are thoroughly organised and planned. Equally important with our Private Party Menus as with our exquisite Wedding Menus, the organisational side of the event catering is something we take seriously, allowing our customers to rest assured and concentrate on other aspects of their event.
Professional Catering Teams
With friendliness at the core of how we work, we always make sure that our customers receive the most attentive service from the very minute they make contact with us. Whether its via our easy to use Enquiry Form or via the telephone, our customers will receive a service which is both speedy, exacting and informative. With a history of working in an environment where deadlines are always met, standards are always exceeded and appraisals are always positive – what we bring to the arena of hog and spit roast event catering is difficult to over-estimate.
Our menus include a large choice of various catering options, and are categorised for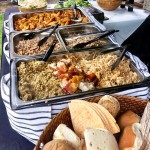 ease of use for our clients. All of our menus form a backbone from which our customers can tailor to their hearts content. Throughout this process, our dedicated office staff will be able to answer any questions which our clients may have – either via e-mail or through the telephone.
So when it comes to booking in your next hog and spit roast catered event, you will be in very safe hands with Spitting Pig Yorkshire. From a Hog Roast Halifax Event to Wakefield or Huddersfield – our catered events are as theatrical as they are culinarily beautiful. From the summer party through to the wedding event, our catering services all receive the same level of exacting thought and preparation – in order to provide you with the hog and spit roasted food which you deserve.
[+ show][- hide]