The next time that you decide to have a party, why not consider hiring a hog roast machine from Hog Roast Bradford? These machines can actually create a large following to your events, and they feed an adamant amount of people at one time. Once, only used for celebrations, our hog roast machines are available for you to hire at your convenience. There are a plethora of things that you can cook on one of our hog roast machines. However, in order to have a strong understanding regarding how functional these machines are, you need to have a strong understanding of what these machines consist of.
Our hog roast machines are encased in stainless steel materials.Hundreds upon hundreds of our clients have loved our hog and spit roast catered events over our years in the hog and spit roast event catering trade. From Bingley, Shipley, Otley and too many other locations in Yorkshire to mention, Hog Roast Hire Bradford have plied our trade with excellence and dedication. Roasting our exceptionally fresh and ethically reared meats is just one aspect of our service, as is the skilled preparation of our salad and vegetable side dishes.
Occasion Catering Made Simple
Along with this comes our excellent and attentive service, as well as our ability to clean up after ourselves and make your venue appear as though we hadn't been there in the first place. However, it became apparent that many of our clients wished to have a go at hog roasting themselves. Seeing Hog Roast Bradford do it again and again, people quickly became interested in trying it out for themselves – and who are we to argue, as we absolutely love doing it! Therefore, as another string in our bow, we gladly offer our clients the opportunity to hire one of our hog roasting machines anytime they wish.
Great for sports teams or barbecue enthusiasts, the hire option is more popular than we could have ever imagined. Continuing to grow, we are happy that more and more people are being introduced to a cooking and meat roasting method that pre-dates modern Man himself!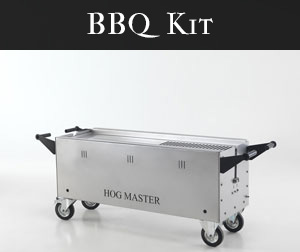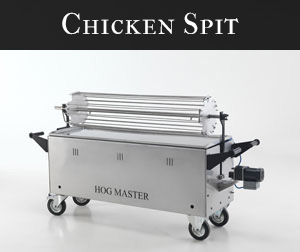 The crucial and pivotal element which has allowed and facilitated our ability to offer the hire service to our clients is the use of Bingley hog roast machine hire which our factory has designed and manufactured themselves. When we started out many decades ago, we simply couldn't use the hog and spit roast machines which were available on the market at our events.
The standards and consistency of the food we wished to create could not be prepared in the manufactured machines which were available at the time. Thus, Hog Roast Hire Bradford embarked upon an engineering project to build our own machines. Knowing the characteristics we desired, we began then what we have now; a range of the finest hog and spit roast machines available on the market. Over the years, we have been able to improve and hone our hog and spit roast machines, allowing hundreds of changes to be made.
By conducting hundreds and hundreds of events, we have been able to see where improvements were needed. Along with this, we have been able to immediately implement these changes. Through this, we have absolutely no qualms with allowing the general public to hire our machines; as we are so confident in their reliability and usability. Put simply, an absolute novice has no problem; you simply place the pig in the machine, switch it on, sit back and have a few beers and hey presto! Your hog is roasted to a beautiful golden hue, just waiting to be carved, served and eaten – what could be better?
By opting for the hog roast machine hire option, the client gains absolute flexibility to use the machine as and when they choose – at a very low cost indeed. Of course, not everyone will wish to hire the machine, which is fine – as we do believe that we are the finest when it comes to the hog roast through all of our experience. However, it is exceptionally difficult to get it wrong – as well as being lots of fun and a really great way to impress your family and friends. Our clients can choose to have us supply the meat for their hog roast also, which means that you needn't bother sourcing your own pig or lamb.
If you wish t use your own produce or source yourself, however, then feel free to do so – it truly is the best example of giving our customers the highest levels of quality and choice. Along with meats, our glorious hog roasting machines can cook lovely jacket potatoes whilst the pig is being roasted. Roasting in the fat which runs clear from the pig carcass – this is a taste sensation which not many can resist.
The hire option offers yet another way in which we put forward the notion of the hog and spit roast. Firm believers in the fact that there is no other method of meat preparation which even comes close in terms of quality and taste. Thus, by offering our clients yet another way in which we can assist them in gaining the exceptional taste and great enjoyment of a gorgeous hog and spit roasted event; we feel we are doing both our customers and hog roasting itself the service it deserves. The stainless steel bases and lids allow you the option to perfectly roast any type of meat that you desire to perfection.
Aside from the materials used to make this incredible machine, the best thing about these machines is showcased in the machines interior. Once the machines have been propped open, you will notice that there are primarily two different things that they can be used for. On the top portion of the machine there is a solid stainless steel rod that has been placed. This rod is what will act as the skewer for your hog, goat, lamb or rack of beef. You will be required to skewer your animal onto this rod before you can begin preparing a meal for your guests. The bottom portion of the machine consists of a normal grill top. However, this grill top can be interchangeable by simply placing a few stainless steel pans in its place.
With the versatility that our hog roast machines provide you can easily cater an entire party that consists of 125 guests. It is extremely easy to roast your main course over the blazing heat of the machine and also roast any vegetables along the bottom of the machine that you wish to serve with your hog. Bear in mind that the main course will take longer to cook to perfection in comparison to the plate of vegetables that can be placed in stainless steel pans in opposition to a traditional grill top. A plethora of people simply adore utilizing our hog roasting machines for all of their parties, simply because after you have carefully prepared your main course for roasting, the machine completes the entire cooking procedure for you.
However, you will still need to check on your roasting main course periodically, just to ensure that it is roasting at the degree that you require. Normally a one hundred pound pig will take around 6-8 hours to cook, depending on the texture that you prefer your meet to be. When you hire a hog roast machine from us, we will personally have it delivered to your residence, regardless of where you presently reside. The machines feature wheels on their bottom surface which make them perfect for transporting from one area to the next. Hiring a hog roast machines are extremely inexpensive, after you have completed utilizing the machine for your large event; just simply return it in the same stature that it was given to you in.