The next time that you decide to have a party, why not consider hiring a hog roast machine from Hog Roast Bradford? These machines can actually create a large following to your events, and they feed an adamant amount of people at one time. Once, only used for celebrations, our hog roast machines are available for you to hire at your convenience. There are a plethora of things that you can cook on one of our hog roast machines. However, in order to have a strong understanding regarding how functional these machines are, you need to have a strong understanding of what these machines consist of.
Our hog roast machines are encased in stainless steel materials.Hundreds upon hundreds of our clients have loved our hog and spit roast catered events over our years in the hog and spit roast event catering trade. From Bingley, Shipley, Otley and too many other locations in Yorkshire to mention, Hog Roast Hire Bradford have plied our trade with excellence and dedication. Roasting our exceptionally fresh and ethically reared meats is just one aspect of our service, as is the skilled preparation of our salad and vegetable side dishes.
Occasion Catering Made Simple
Along with this comes our excellent and attentive service, as well as our ability to clean up after ourselves and make your venue appear as though we hadn't been there in the first place. However, it became apparent that many of our clients wished to have a go at hog roasting themselves. Seeing Hog Roast Bradford do it again and again, people quickly became interested in trying it out for themselves – and who are we to argue, as we absolutely love doing it! Therefore, as another string in our bow, we gladly offer our clients the opportunity to hire one of our hog roasting machines anytime they wish.
Great for sports teams or barbecue enthusiasts, the hire option is more popular than we could have ever imagined. Continuing to grow, we are happy that more and more people are being introduced to a cooking and meat roasting method that pre-dates modern Man himself!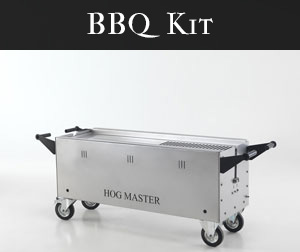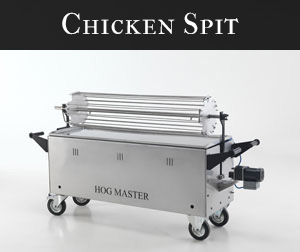 The crucial and pivotal element which has allowed and facilitated our ability to offer the hire service to our clients is the use of Bingley hog roast machine hire which our factory has designed and manufactured themselves. When we started out many decades ago, we simply couldn't use the hog and spit roast machines which were available on the market at our events.
The standards and consistency of the food we wished to create could not be prepared in the manufactured machines which were available at the time. Thus, Hog Roast Hire Bradford embarked upon an engineering project to build our own machines. Knowing the characteristics we desired, we began then what we have now; a range of the finest hog and spit roast machines available on the market. Over the years, we have been able to improve and hone our hog and spit roast machines, allowing hundreds of changes to be made.
By conducting hundreds and hundreds of events, we have been able to see where improvements were needed. Along with this, we have been able to immediately implement these changes. Through this, we have absolutely no qualms with allowing the general public to hire our machines; as we are so confident in their reliability and usability. Put simply, an absolute novice has no problem; you simply place the pig in the machine, switch it on, sit back and have a few beers and hey presto! Your hog is roasted to a beautiful golden hue, just waiting to be carved, served and eaten – what could be better?