Yorkshire born and bred, and so very proud of it. Proud to be part of a county where Yorkshire puddings were created, where the home of three national parks are situated – North Yorkshire Moors, Yorkshire Dales and part of the Peak District and where the longest city walls are based – York!
Here at Spitting Pig Yorkshire we'll happily travel to each one of the towns below. Can't find your town on the list? Just give us a call and we will do our best to make sure we can get our fantastic food to your location!
Over the years we have been able to modify and hone our skills in the ancient art of hog roast catering. This cooking technique dates back thousands of years and formed the basis of ancient civilisations. Fortunately, Hog Roast York gave been able to adapt and make this technique our own over the years we have been in the catering industry. Having designed and built all of our own machinery, we are now the UK's leading hog roasting business- a title we are proud to have earnt!
Part of what makes our business such a success is our flexibility. We will always do everything possible to ensure we never turn down an event even if it involves our team of professional caterers travelling several hours to get to your venue. We are passionate about sharing our delicious slow roasted food with as many people as possible and thanks to our friendly and professional service we often have many repeat clients and a lot of our custom is down to word of mouth. Hence, we pride ourselves on our glowing testimonials which really are a testament to the brilliant job our team at Hog Roast York do day in and day out.
From Addingham and Castleford to Scarborough and Wakefield, our team of hog roast caterers work all year round to deliver exceptional heart-warming food to you and your guests. From the moment you choose to book with Hog Roast York, we will not disappoint. Our friendly bookings and event teams will work with you to establish exactly what you will require on the day of your event. Whether that is a formal, three-course dinner or a casual BBQ with friends- there is no event we cannot cater for. Once we have established an idea of your number of guests, plus any dietary requirements we will put you in touch with your very own hog roast chef who will be your point of contact from thereon. With over twenty years in the catering business, our chefs certainly know a thing or two about what works well at different sorts of events. Whilst you can browse our many different menus on our website, please remember these are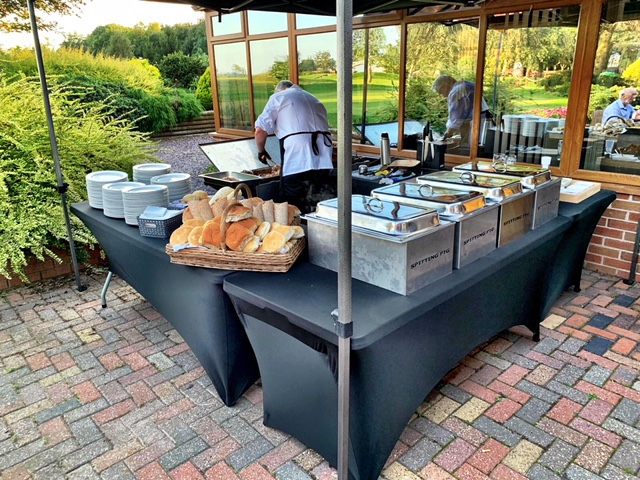 merely there as a guide and your chef will be more than happy to amend, add to or merge these menus to suit your needs and tastes- it's your event after all!
Once the day of the event arrives, we always make sure we plan plenty of time to travel to your venue and allow the food the optimum amount of time to become beautiful tender and delicious before serving. This may mean we start cooking up to six hours before serve time and although we like to do all the cooking on-site, we understand this may not always be possible and so we are always happy to work with you to establish the best course of action whilst prioritising the quality and flavour of our food!