The Best Hog Roasts in Batley
I work as a hog roast chef and thoroughly enjoy my work,  I decided to become a hog roast chef after attending a friends garden party many years back, It was here where I first took a bite out of the finest tasting meat that I had ever laid eyes on! I was initially engrossed by the sight of the actual hog spinning slowly on the spit, but that was soon forgotten as soon as I smelled what wonderful aromas were drifting off it. My last job was a wedding here in Yorkshire, I had to cater for a couple that wanted a hog roast in Batley for their guests. I wasn't sure if I'd ever actually visited Batley before; I looked the place up online and remembered that I hadn't! This is a part of my job that I love, exploring new territory and meeting new people.
For the Batley hog roast, I was asked to do a standard English-style hog roast, this did seem like an odd request and I wondered what they meant and the voice on the end of the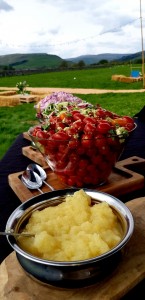 phone said, 'you know, with an apple in its mouth' this did make me laugh as I thought he meant something else over here in England! No brains for you then sir?Eating the brains of a hog roast is one of the most macho things I have seen and experienced in my time, watching a man go for broke on the brain of a roasted hog is quite exhilarating, I have tried it myself. It's almost like a rite of passage for many hog roast chefs as the taste and texture of a hog's brain is unlike no other part of the animal, it has a unique flavour and texture which makes it a delicacy in certain areas of eastern Asia.
Leaders in Our Field
For the Batley hog roast which; was situated in near St. Pauls church in Batley, which was originally built around the time of Henry the 8th, I decided to select a large, assured and nicely presented hog from my local butcher. I can tell whether the hog has been treated well and had a good life before the roast due to the stamps that are present on the hogs back. When I prepare a hog roast, I don't go in for all the fancy trimmings or injections that a lot of hog roasters do, I always thought they end up a bit too sloppy for my liking, instead, I like to score the pigs skin thoroughly. This means I get plenty of easily accessible crackling for my clients. I then like to pour cider all over the hog and rub coarse sea-salt into the scoured skin.
This method not only gives the meat succulence but it also allows the fat to drain away from the meat and gives the meat a great texture.  The cider acts as a subtle flavouring which adds a light tang to the pork taste. I add some bunches of sage in with the hog to roast too, Wonderful! The Batley hog roast was such a great day, the happy couple and the guests were all excited to see what was on offer when I began to roast the hog for them, I prepare salads and plenty of sides for clients too, I normally like to put Potato salad and beans out for them to accompany their pulled pork sandwich.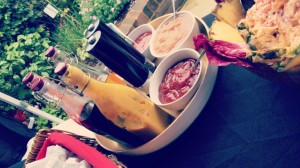 As always with weddings and get-together occasions such as the wedding in Batley, plenty of chilled wine and beer was on offer too. This gives the whole event a little bit of lubrication shall we say! By the time the Batley hog roast was ready, I had a queue lining up near the stall of ravenous party guests, I'd never seen anything like it, it was predominately men lined up which is always the case. Because hog roast events are usually run as a buffet style, it's great to see keen party guests awaiting their first and probably not their last hog roast sandwich. The only downside to this is trying to keep them all from demolishing all the side dishes that I provide!
As with all things in life and Guinness, good things most definitely come to those who wait.
Being from Yorkshire is an honour which I hold dear to my heart, I love the atmosphere, views, landscape and most of all I love all the people! I have lived and worked in Yorkshire for almost 35 years now, it's the place I call home.