Having a little fun with the people you work with everyday can be a great way to boost company morale, which is why a corporate event can sometimes be just what the doctor ordered. We've noticed that in the past few years, corporate hog and spit roasts have quickly become one of the most popular, and enjoyable, corporate events out there. Hog roasts are laid back, fun, and allow everyone from management to staff let loose and enjoy the day. So, if you're thinking about organizing a corporate catering event, we know that a hog roast (or a spit roast) is the way to go.
There are quite a few options when it comes to corporate catering for hog roasts. Depending on where you'd like to host your event, how many people, and what you'd like to focus on, we at Hog Roast Harrogate can definitely help you plan an event to remember. Over the years, we've helped many countless companies like yours put together successful hog and spit roasts that have met a variety of budgets. These events include the likes of team building and bonding, charity awareness, staff family picnics, VIP events, and even corporate meetings with a twist.
If you're new to planning a hog roast for your company, don't worry; we can help! Our team is happy to work with you to customize the day's events, menu, and plan everything to meet your needs, and your budget. No matter how big or small your event will be we will provide a quote and outline of all of our services. We don't shy away from any event just because it's too big or too small.
With our years of experience, we know how to plan an entire corporate hog roast to go off without a hitch. Throughout the years, we've also made connections and partnerships with different venues throughout the United Kingdom, entertainers, and even marquee companies. Unlike other corporate catering companies, Hog Roast Harrogate are more than happy to help you plan the event, provide advice, and offer quotes to meet your budget.
Once you've decided you'd like to work with us, we'll sit down with you and discuss your ideas and menu options. Remember, everything will fit into your proposed budget. Our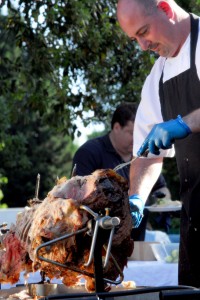 massive list of suppliers can work with any dietary restrictions and special requests you may have. This is never a problem! Just let us know what your requirements are and we will make sure we meet them for your hog roast.
If you prefer to plan your event on your own, great! We offer hog and spit roast hire options which may be what you are looking for. We're always updating our equipment so we have plenty to offer you. All of our machinery is up to modern standard and are less than two years old.
You shouldn't have to worry when planning a corporate hog roast – we won't let you! A corporate event should be fun and rewarding for everyone involved. Don't hesitate to contact Hog Roast Harrogate for more information or help in planning your next corporate hog roast.
Back To Menus