There are few days in your life as special as a wedding day. There are also few days as difficult to plan. So many details! The list grows longer and longer every day, it seems, and one of the most important decisions to make is how and what to serve your guests for this all-important celebration. Well here at Spitting Pig we have the perfect solution for you. Simply fill in the enquiry form and let us use our twenty plus years of experience to help you make the correct choices for your all important wedding day food.
Relax. You can take the worry about what to serve your guests off the list. We can help you plan a menu that will not only make all your guests happy, but impress them with high quality cuisine that will have them smacking their lips and talking about your wedding for years. Here at Hog Roast Huddersfield we have extensive menu options that we will tailor to your exact specifications. We offer roasted pig, lamb, beef, chicken, and turkey.
We offer dishes for the vegetarian or vegan guest. We even provide all the side dishes, including potatoes and desserts. Our sample menus can be adjusted to fit every need and budget, and all dishes are prepared fresh on site. If you're planning a more informal setting yet still want Hog Roast Huddersfield to cater it's not a problem, there are lots of options available why not try one of delicious barbecue menus with marinated chicken fillets, lamb chops, chefs own gourmet sausage, burgers, or spare ribs. Our menus are extensive and the choice is yours.
But there's more! We are an all-inclusive catering service, which means once you've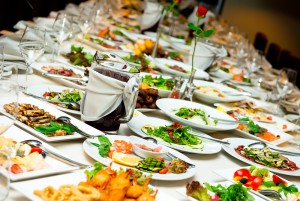 made your decisions about the fine food we present, we'll take care of all the other details. We can suggest appropriate venues, and we'll help you plan, we'll set up everything including tables, linens, buffet lines, dinnerware and more. Our full team will arrive at least six hours early, with a personal chef, a catering assistant, servers, and even a front of the house person, should you so desire.
Best of all, when the party really gets started, we'll pack up and haul away all the rubbish, freeing you to dance away the night and enjoy the most special day of your life. Our company prides itself on not only providing the best wedding meal you'll ever eat, but in our commitment to customer service. Hog Roast Huddersfield are not happy unless you are happy, and we'll do whatever it takes to make that happen.
Estimates are available either over the phone or in person, and we will work with you to give you a magnificent meal with all the trimmings well within your hog roast budget. By the time your celebration is over, all that will be left is happy, satisfied guests.
Back To Menus