The Best Hog Roasts in Halifax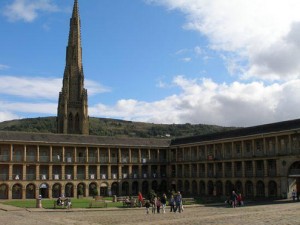 When I first started out as a hog roast Halifax caterer some five years ago, a lot of people were still unsure about hog roast, not really knowing if they thought it was for them. That seems to have changed a lot in the last few years and I now seem to enjoy getting more and more week every single week. I really do get to cook at a wide range of events and it means that my work is really very interesting and never the same. One of the more interesting bookings that I tend to get are work related corporate jobs. In and around Halifax are lots of different businesses with some pretty big employers amongst them. I do get a surprisingly large number of corporate work from companies like these and the reasons for booking me are quite varied. Very often they will be having a motivational event with guest speakers coming and this often means they book out a hotel. These are great to serve food at as it is always in lovely surroundings but it also means that I need to serve my hog roast in a more formal manner. You may be thinking how can you serve hog roast in a formal fashion but it is quite straightforward. With some very careful carving and some lovely vegetables and potatoes you can have a stunning looking formal hog roast meal that will go down a treat with all the smart attendees.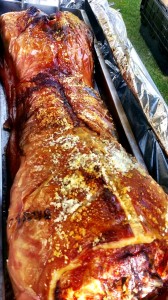 I have also served hog roast at many work based functions. During the summer or when there is an international soccer tournament on , quite a few businesses will organise an early finish and book me for a hog roast in the car park. These are a real laugh and I guess it can be fun to see the bosses let their hair down a bit. Hog roast Halifax catering work is quite hard work as it does mean a lot of preparation getting everything ready but you do get to attend some fun events. I love being booked for outdoor events as it always nice to get some fresh air, and if it's an outdoor music event then that is even better as I love to hear what is being played. I even get to cook for some school fairs which is great. The parents love the hog roast, as do the children. Crackling is always a favourite with everyone and given the fact that we seldom have a hot summer these days, a warm hog roast roll really can warm them up!
Probably my favourite events are wedding evening receptions as these are always great fun. I think people love the fact that instead of the usual terrible sandwiches and cold pizza that they can enjoy some fantastic, freshly cooked hog roast with their beer and wine. They also love watching me cooking the hog roast and I often get people saying how fantastic the whole pig looks as it roasts away. I get the same reaction at the many birthday and Christening events I cater for too. So I really have to say that I love my work as a hog roast hire Halifax caterer and the good thing is that people love what I do, too….which is why they keep me so busy!
Leaders in Our Field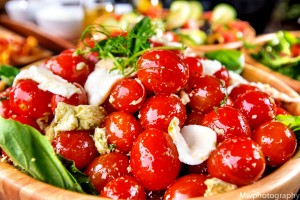 Living in the greatest county in the world (that's Yorkshire in case you weren't sure) is an honour, and serving its people as part of your career is another honour. I don't think that you can ask for much more in life than to work somewhere you love and alongside the people you care about, though having a good job is of course something that really can make life a lot happier. Well, I guess I must be very lucky indeed then because my job as the local hog roast Halifax caterer is without doubt the best job I could have found, and with the exception of being a centre forward for Halifax Town, I would not swap it for anything. Halifax is my home town and the place where I carry out all my hog roasting work. A lot of people seem to think that Halifax is small and almost village like, but it's most definitely not, at least not with a population of over eighty thousand people. And the fact that this such a well populated place is excellent news for me because that means I have lots of potential customers to reach out to.