The Best Hog Roasts In Harrogate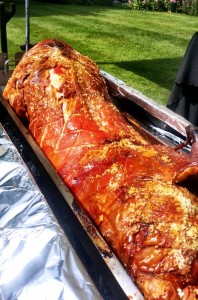 Quality food at quality prices is what hog roast Harrogate party catering is all about. If you're on a prowl for an event caterer we have a multitude of catering solutions and a wealth of practice that can benefit you greatly. Trying to put together an event, a good one at that, isn't always the easiest of errands. There are a lot of companies out there who make tall claims about their experience and talents, but if you dig deeper you'll find many of them can't live up to their advertisements. With hog roast Harrogate catering you don't need to have these worries, because our track record is proven and we have testimonials from so many people all with one recurring theme – they think our hog roast catering is the best to be found in Harrogate.
Not only is a hog roast as delicious as you would expect given our high standing in the area, but as well as that, we'll give you a truly authentic hog roast experience, an experience that nobody else can provide you with. We've stayed true to our hog roast roots, combining modern technology and age old culinary knowledge to create a catering service for a party – or a wedding, corporate event and more – that shames all others it is a great tradition that is still used today as it is the only true way to get the meat roasting perfectly in its own meaty juices over and over again as the pig rotates so it does not get and juicer that it does with our machines.
Leaders In Our Field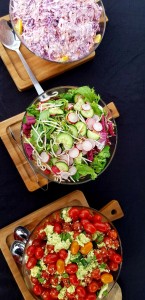 The Harrogate hog roast we cook carefully are distinct in their flavour and quality, with local ingredients leading the way for exciting flavours and a healthier hog roast. We make hog roasts that are more diverse than they've been at any time in the past. Today you can have your timeless roast pig sandwich just like the good old days, but alternatively you can have a fantastic lay of classic event foods – from salads to canapés and a range of desserts – to accompany and make your hog roast Harrogate experience better. Hog roasts now are a staple at a mixture of events, because we can serve a hog roast formally or informally, outdoors and even indoors if the area we are cooking in is well ventilated sometimes even a window can be enough to cook the meat indoors , we can serve out meat as part of a sit down meal if its more of a formal event and your guests are seated or buffet style which is where your guests would come up to our serving tables and they would get their plate and add side dishes to their plate from here and they would walk up to the pig and the chef would carve the meat of the pig and place it ton there plate or in ton their soft floured bread roll, or as a standalone hog roast or spit roast snack sandwich the choice is yours we understand that all events are different and that you may be wanting a service in which you may need more staff to maybe serve drinks, we are also able to provide staff if you have hired a bar but nobody to run it the possibly of our services are endless. The spit roast alternatives to our fresh pigs are chicken, lamb, turkey or beef and we can also cater a barbeque option too, but you can combine 2 or more of those meat choices if you want to give your guests a choice of spit roast meats.
We have tantalising menus that suit just about any event, and the menus are suitable for a range of different budgets. All hog roast Harrogate menus provide a hog roast chef, lay table, cutlery, and the like – and we serve in a warm, professional manner, no matter what the event or cost of menu.
The emphasis of all our menus is on fresh food that's inventive and exciting while staying true to traditional roots of hog roasting. And one thing you can always count on with a hog roast is that your guests will be adequately fed. We don't muck around with child-sized portions!
If you're keen to experience a real hog roast Harrogate feast we look forward to working with you.