The Best Hog Roasts in Heckmondwike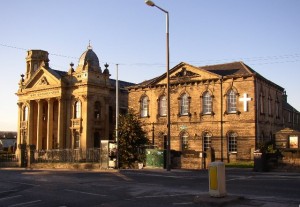 We only pick and roast the best hogs at hog roast Heckmondwike, because with machines like ours it would be a crying shame to use anything but the best quality ingredients. And if you are going to roast one of the finest, plumpest porkers money can buy whole on a spit, well, why do it on anything but a stainless steel professional roaster? You'd have to be mad not to! Seriously though, once you've seen our machines you'll understand why hog roast hire Heckmondwike holds its reputation as the best option for hot roasted pork in the county. Everyone who's tried our roast pork baps knows – you can't beat Hog Roast Heckmondwike for events catering, no matter how big or small your party. And no matter what you want to eat either. While we're famous for our pork, and rightly so, we're also geared up to provide roast beef, roast lamb, roast turkey, roast chicken – in fact, there's not much you can't roast on a roasting machine. They may be perfectly specced for high-quality hogs, but these machines are big beasts and they we can roast pretty much anything we can get our hands on. So if you've got a hankering for anything special, give us a ring and we'll see what we can do. It's not just the best roasted meats you've ever tasted that we provide, either.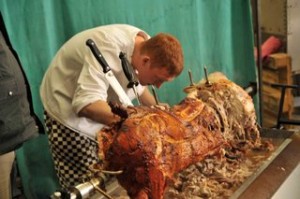 We're equally at home serving up baps in pub back garden as we are providing table service for a sit down banquet, so if you want to make it a full meal we offer plenty of freshly prepared options to accompany the main event on the plate. We do all kinds of salads, pastas, breads and potatoes cooked every which way, and if you really want to treat your guests to the full works you should take a look at the range of nibbles, starters and desserts we can put on. We like to think our menu is pretty comprehensive, but if you don't see what you like do not be afraid to ask – we love to try new things and we'll thank you for providing the opportunity to expand our repertoire! We can alter our menu to suit the seasons, so if fancy a berry packed summer pudding in January or perhaps a Christmas pudding for a festive shindig then hog roast Heckmondwike are the people you need to be speaking to. And it stands to reason that with all these different food options available, we also make ourselves available for events of all different kinds.
Leaders in Our Field
Everybody loves a wedding, and no-one more than us at Hog Roast Heckmondwike – we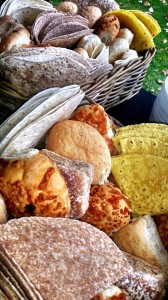 really relish the chance to show our stuff and really wow your guests with the standard of food and service we provide. Of course, we don't make any less of an effort if the event is a bit more informal, and that's why we're a firm favourite of everyone in the area, from sports clubs to schools, church groups to local businesses. We'll happily cater for events indoor or out, so whether you're hosting in the town park or your own back garden we'll be right at home cooking up a storm for you and your friends, family and new acquaintances to feast on. So many people use the word 'feast' nowadays, but stop a moment and conjure one up in your mind; what do you see? For me, the definitive image of the banquet is the medieval castle, everyone round the table digging in to all kinds of delicious delights. And what's slap bang in the centre of the table, taking pride of place? A whole roast hog. I rest my case – you can't honestly call your meal a feast unless it features a whole roast pig, and if you need a whole roast pig who are you going to call? Why, hog roast hire Heckmondwike, of course! Anything else is a risk when there's a feast at stake.
Heckmondwike is about as traditional as a good solid Yorkshire town can get. There's no-one on earth quite like a Yorkshire man, and the welcome you get in Heckmondwike is a warm as the woollen blankets that made the town the town famous. Of course, they love their roast meats as much as, if not more than the next man in Heckmondwike, and there's nothing to guarantee that warm welcome will extended to you like turning up with a roasting machine (with, of course, a top quality rare breed hog on its spit) in tow!