The Best Hog Roasts in Horsforth
You can't beat a big slab of roast pork, and whatever the weather Hog Roast Horsforth have got you covered for hog roast Horsforth. Obviously we prefer to operate under cloudless skies with the sun beating down on our backs so we can work up a thirst, but if you're looking for a failsafe catering solution that won't let you down even if the weather does, hog roast hire Horsforth provided by us is the way to go, the one and only weatherproof way to feed your guests. We're well aware that even the briefest of downpours can seriously put the dampeners on a barbeque, but our beautiful hog roasting machines are fully operable whatever the weather, so if you don't want to risk standing out in the rain serving up sad damp sarnies give us a ring and let us take care of your food so you can relax and enjoy yourself properly.
Leaders in Our Field
We come prepared as well, because the chefs don't like to get wet, so we can set up under a marquee and dole out beautiful perfectly cooked hot pork sandwiches in the face of the worst of downpours. It takes more than a bit of rain to put off the guys at hog roast hire Horsforth! We operate year round, so whether it's a garden party on a perfect summer's day, a bonfire night bash or a Christmas party for the whole neighbourhood call up Hog Roast Horsforth and we'll be there on the day before any of your guests getting some of the most beautiful prize rare breed hogs in the country up to temperature for a nice slow day of roasting on our machines in time to feed all and sundry with tender tasty roasted meats.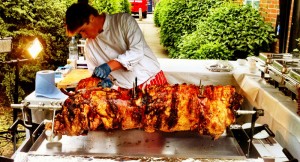 We've served our delicious fare all over Horsforth and the surrounding area over the years, and our hog roasting machines are very versatile and manoeuvrable – I don't think there's a single location in Horsforth that we couldn't get to. The thing I love about the town is the real local character that you get from all the building in the area being built from the same local sandstone – there's a real identity to the area that marks it out as special, for me at least. I've been down to a few of the quarries in the area that the local stone comes from – several family members remember working in them – and it's a sight to behold. I think it's one of the things that really means I'll always love Horsforth. And I've roasted hogs with my back to more of those sandstone walls than I care to mention – it's a very solid and secure feeling, having your back to a properly built traditional Horsforth sandstone wall. I like to think that it's the traditions that keep a town like Horsforth together, and some of the events that I've been most proud to cater over the years are the traditional gatherings that bring the whole town together – May Day gatherings, harvest festivals, the celebration for turning on the lights at Christmas – all of them great, but always able to be improved by the addition of a hot and juicy roast pork roll to really get things going.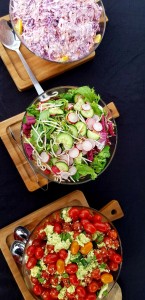 You can't party on an empty belly, and with Hog Roast Horsforth and our roasting machines on hand nobody need worry about getting a bit peckish – we can guarantee we'll fill you up! And it's not just hog roast Horsforth – we can supply and roast to perfection all kinds of meats, from the original whole hogs that made us famous to whole lambs, turkeys, chickens, sides of beef – in fact, you name it, we'll spear it on our spits and roast it until it is cooked right through. Of course, with catering experience like ours we know that however wonderful roast meat is it really shines when accompanied by some well chosen and beautifully prepared sides to complement the main event, which is why we have also put together a whole range of tasty salads to suit your palate along with breads, pastas and potatoes – the buttery minted new potatoes are a particular favourite of mine. And if you don't see what you want on our menus – ask!
Between us we have years and years of catering experience and there's not a dish we can't turn our hands to, so as long as you get your requests in before the day itself we'll supply whatever takes your fancy.