The Best Hog Roasts In Pontefract
When it comes to catering for your get-together, our experts at hog roast Pontefract know what makes a great hog roast, and we've got two specialist machines to cook the perfect roast pig. The first machine we have on offer takes the more conventional route and spit roasts the pig over a dry heat. This truly is a sight to behold and definitely has the 'wow' factor that is bound to make an impact on your guests. Rotating the hog over the heat, this method ensures a crisp finish and delicious flavour that will have mouths watering. The second machine we use takes a slightly different road, cooking the hog in a tray, letting it roast in its own juices and giving a tender and juicy texture that will leave your guests wanting seconds… so it's good that each hog roast can serve up to one hundred people.
It can be quite the job knowing what food to choose for your event, and although our speciality is, of course, hog roasts, we're proud to offer a range of menus for you to choose from. From mini pizzas to chicken kebabs, our chefs can whip up tasty food to suit your needs. Should you feel the need, you can also customise your menu, to make the food at your event truly your own and totally to your own tastes. So whether it's your wedding breakfast, a graduation celebration or a stag do with a difference, we'll help you out with your menu options so that everything runs smoothly on the day. Although we'd love to be a part of your big day, and help in any which way we can, we know that sometimes it's nice to take control of things yourself. At Hog Roast Hire Pontefract, you can rent hog roasting equipment from us, and although we won't be there, we'll still make sure everything goes to plan. You can pick any one of our two machines and we'll drop them off on the day of your event, and pick them up once more when you're done with them. So, transport of the hog roast machines is something you can cross off your party to-do list.
Leaders In Our Field
When you hire a machine from hog roast hire Pontefract, we'll supply you with a gas bottle to fire up the machine, ensuring your pig will be perfectly cooked and your guests are well fed.
You may also purchase a secondary bottle from us to keep the machine running throughout your event, which will really come in handy if you've got a lot of mouths to feed. You've probably already got a price range in mind when it comes to hiring equipment for your party, and we know that food can heavily cut into your budget. Sourcing a pig to roast can often be a little easier said than done, so to save you the effort, and maybe even a little cash, you can loan a machine from us with a hog included.
If your diary is jam-packed with events, we can imagine keeping everything organised is quite a stressful task. If you are looking for a unique alternative to your standard and predictable party buffet, look no further, because we've got the answer to your problems –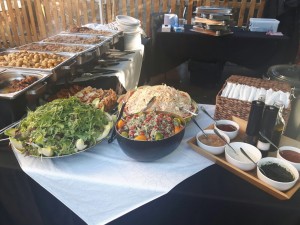 and you'll barely have to lift a finger. Whether you want to cater the event yourself, or let us take care of it for you; here at Hog Roast Pontefract we can help you with both.  Based in Pontefract, a historic market town in west Yorkshire, we strive to provide the best service – and even better food!  You can rely on our friendly staff to be there for you every step of the way on the day of your event. Our caterers and chefs share years of experience between them, having catered many events without a hitch, thanks to their extensive training. Before your event gets going, our dedicated team will arrive early and make sure they're ready to go when you and your guests show up. We can even help you with those little added extras, such as table linen and napkins, cutlery and plates; meaning there's one less thing for you to worry about when organising your event.
Whether you rent a machine from us or take us on to do your catering, we can assure you that all the food we serve is sourced locally and will be wonderfully fresh when it's on your plate. So, what are you waiting for? We're confident that we've got everything you need to help host the perfect party, all you need to do is drop us a line or send us an email, and we'll be more than happy to help out.