The Best Hog Roasts In Pudsey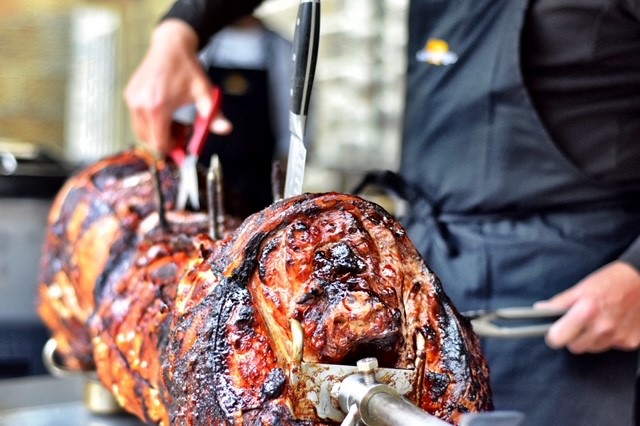 Pudsey is a thriving West Yorkshire market town between Leeds and Bradford, with quaint cobbled streets and a strong sense of community spirit. It lends its name to Pudsey Bear, the iconic Children in Need mascot, and even gets a mention in a Monty Python sketch.
Here at Hog Roast Pudsey, we love getting involved in local events and helping residents to celebrate our town's redeeming features by providing fantastic local food for all different kind of social gatherings, formal occasions and private parties.
Great Food For All Occasions
Hog Roast Pudsey have had our place in the local community firmly rooted for many years due to our creative cooking, fresh, homegrown ingredients and our reputation for providing the finest hog roasts for miles around.
If you are looker for some top-notch outdoor catering for one of Pudsey's monthly Farmers Markets, ale festival or annual carnival in Queen's Park, we can provide family-friendly feasts on an epic scale. Our hog roast machines can be used anywhere and produce enough food to feed a large crowd with excellent quality-pork and plenty of exciting side dishes. What's more, from the first slice of pork to the last, every single diner will be treated to a consistently high standard of food and service, not to mention generous portions, without you having to worry about there not being enough to go around. Our cooking methods may be streamlined, but the quality and scope of the meat just one of our machines can produce always comes as a very pleasant surprise.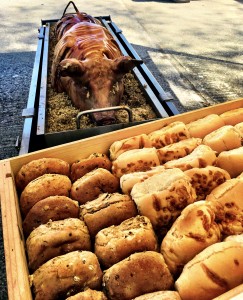 We don't just specialise in big, bold buffets though-we are becoming an increasingly popular choice for smaller celebrations and more formal occasions, including wedding receptions and corporate events. This is thanks to our forward-thinking approach to event catering and our ability to provide well-crafted, elegant menus with several delicious courses and our own handmade canapes, which are always the perfect way to get any party started. We even do a range of alternative meats if some of your guests don't eat pork, and a range of delicious vegetarian options for those who don't eat meat at all.
If you are organising any type of event in the local area and would like some inspiring, perfectly cooked food and varied menus that will please everyone, Hog Roast Pudsey are the ideal solution to all of your catering needs.