The Best Hog Roasts In Ripon
Ripon is the perfect place to take advantage of the wonderful hog roasts that we at Hog Roast Ripon have to offer. An old, traditional, and beautiful market town, Ripon is home to many ideal venues for the flavours that we provide. With its main features being the staggering Ripon Cathedral, the two streams of the River Ure, and the famous Ripon Racecourse, there is plenty to draw the crowds to the town. And that's without even mentioning the markets. Hog roast Ripon know that, wherever there are crowds and places of interest, there will always be a need for tasty treats to tantalise your taste-buds.
Ripon is famed for its markets, taking place every Thursday with at least one hundred and twenty different stalls for you lucky shoppers to browse. While there, why not take advantage of what hog roast Ripon has to offer. You can learn all about our fantastic feasts while in the town. We offer unrivalled hog roasts, for all your Ripon events, whether a wedding reception in the town, a corporate meeting after a day at the Ripon Racecourse, or just a traditional birthday celebration with the whole family celebrating in style with some great food supplied by us. A town like Ripon is bound to always be buzzing with a variety of flavours, but if you get yourself down to hog roast Ripon, we're sure you'll use us again, and again, and again.
Leaders In Our Field
The Ripon Racecourse brings all sorts of custom in to this wonderful town. Due to its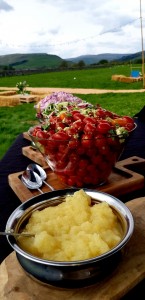 presence here, there is no lack of hotels, places to dine, and things to see. A day at the Ripon Racecourse is a special event and, luckily for us, is often followed up by a well deserved feast. Who knows; you might even be able to pay for it with your winnings. Imagine the celebration. Your winnings in your pocket. Your friends, family, or business partners by your side. And, in the corner of your garden, or hotel veranda, or wherever you choose to host the occasion, our tireless staff roasting the hog, letting it cook in the cider and bay leaves. The smells. The noise of the crackling bubbling to perfection. And then, the fantastic meaty flavours when the food is finished. A hog roast Ripon is the sure way to make yourself the ultimate host, whatever the occasion.
And where better than Ripon? With its mix of the modern, with the Racecourse and the Light water Valley Theme Park great for the kids I might add and even the adults, and the traditional, with The Cathedral, the Fountain Abbey, and even a horn blower in the town centre on market days, Ripon could almost be an analogy for Spitting Pig's hog roasts. We mix the traditional with the modern. The hog roast has been around for centuries, was a staple part of British diets in the days when Mary Queen of Scots fled and hid in Ripon. But, with our modern catering skills that we have developed over the years from our experience catering at events, our top notch staff trained to the highest standard possible, and the variety of flavours we offer on our meats in Ripon, we add a modern touch to the hog roast.
If you long to experience this for yourself, book hog roast Ripon for your next event in Ripon. Whatever the occasion we have party, corporate and wedding menus for you to have a look through and hopefully you will find something similar to what you are  looking for at your function and we will make sure we are on site at your event at least 6 hours before to begin cooking the pig from scratch so that we can ensure the meat is thoroughly cooked to a moist tender meal this will then be carved in front of your guests eyes so they can see the pig in its whole and then have a slice of the fresh meat in their rolls we supply sauces stuffing and crackling too so even our basic hog roast option provides enough to fill you guests and have them overly impressed with your choice of catering you won't have to rush around at your event with food this will all be taken care of by us on the day so you can have a great time too.