The Best Hog Roasts In Settle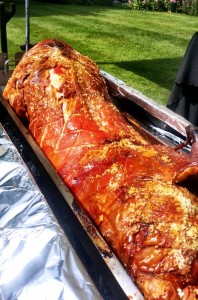 Hog roast Settle are offering you the chance to get fresh catering with a twist, with a traditional hog roast supper catered for you just the way you like it, if you're not familiar with hog roasting you will be delighted with the results and keep coming to us to cater for your events big or small it really does make a great centre point for any occasion, sure to get the chins wagging and the mouth watering. Hog roasting is a time old traditional way of cooking and some might call it rotisserie cooking or from the olden name spit roasting which involves turning the meat slowly to ensure slow and even cooking on all sides making the meat cook slower giving it a more moist and juicier taste then normal style cooking and roasting. In older days gone by there was a boy who would turn the spit manually and that was his full time job but those days are gone by and our top of the range equipment does it automatically for you, leaving you to play host at your event and enjoy the atmosphere and make sure everyone's drinks are full. Hog roast Settle can take care of any questions you may have about hog roasting, our staff are there to make sure your occasion goes by unspoiled with amazing food to boot.
Our staff are both friendly and approachable and will gladly answer any questions you might have, we know every bit of livestock has a tale to tell and with Yorkshire having some of the best farming in the country you should take advantage of this and combine some great produce and one of our hog roasters a combination worth trying for yourself. Hog roast hire Settle could be the way to go if you like cooking and want to give this style of cooking a go for yourself, you can hire our state of the art apparatus and supply the produce yourself or alternatively we can bring both and leave you to it, remember our staff are here to help and we mean it when we say feel free to ask us anything you need to know, we will give you the confidence and know how to pull off the BBQ of the year and make you the envy of your friends and family. Like we say if you have your own source for produce that is fine also, we will just deliver the equipment direct to your venue of choice and place our cooker where you want it then just let cooking commence as our quality hog roaster gives your meat the slow roasting it deserves. Don't think that cooking pigs is the only way to go if you are only having a small event, our roasters are versatile and will cook nearly anything to a high standard enjoyable by all. Chicken is great on our hog roasters as is the quality Turkey which fits right in with Christmas functions, brilliant for a Christmas work party or any family get together over the festive season they all benefit from a super slow spit roasting.
Leaders In Our Field
Spring minted Yorkshire Lamb is probably one of the best meats to try on our hog roasters as Lamb is a fine meat and is already soft and tasty well if you combine that with one of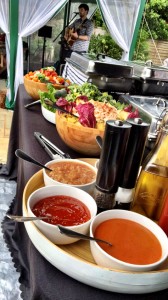 our quality hog roasters it provides a meat roasted to absolute perfection, mouth watering if we do say so ourselves. We do cater for none meat eaters, we can offer fresh and crispy salads again all locally sourced to ensure freshness and flavour as well as our wonderful home grown potatoes served in salads or cooked on the roaster either way they are soft and fluffy just the way you like them, so with everyone fed and all the bellies filled you will be planning your next hog roast buffet before you know it. Our roasters really can cook the lot so let hog roast hire Settle take care of the catering for your next event we deliver the goods where others fail. The beauty of hog roasting is that it is quite eloquent and suits any occasion from weddings to birthday bashes it doesn't matter it just provides a great talking point and gives everyone involved something to remember, it stands out in memory not just because of the great tasting food but the subtle ambiance that lights up special occasions that you want to remember for the right reasons.