The Best Hog Roasts in Sheffield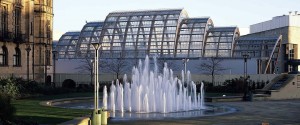 My last hog roast was in Sheffield, the city of steel! I was working for some of the shareholders at the local council. This was a great opportunity for me to try out my new car and give it a blast up the motorway. I arrived on time at the venue and began to set up my stand. I didn't go too overboard on marinades as the client had requested a traditional hog roast which means I opt for a plain sausage stuffing in the hog, lightly oiled skin which is scored, a mild rub of paprika and salt as well as a good 5 hour gas roast. The Sheffield hog roast was also one of those occasions that I was able to provide my own apple sauce that I make using a variety of apples for maximum tangy flavours to compliment the pork. My main bread types that I like to use for a traditional job, like the Sheffield hog roast are just plain white rolls, I do use different breads and sides for other jobs but I decided to keep this one simple with a side of apple sauce so that the client can get a real taste of pork and not just the added extras like marinades or stuffing. Sheffield is one of the greenest places in Europe, I wasn't actually aware of this until one of the guests informed me that in Sheffield they have around 1,600 acres of nature reserves. This was quite astounding news to me as I was under the impression that it was a very industrial place due to the nickname 'city of steel'. It also became apparent that Sheffield has almost 80 ancient woodland areas which; are a sight to be seen!
After the Sheffield hog roast was completed, I decided to pay homage to the place I have watched and followed for many years via television, the Crucible, I am a big fan of Snooker and will never forget Ronnie O' Sullivan playing a number of frames here. Having
never visited this place and seen it so many, it was great to finally say that I've been there and done that! The Sheffield hog roast went down really well and the guests were all very impressed with the amount of crackling that they all received! This is probably the most important part of anyone's hog roast experience; get as much crackling in your sandwich as humanly possible! I don't blame them to be honest the traditional hog roasts like the one in Sheffield had some of my favourite types of crackling, not too soft underneath, not too fatty, not too hard to bite, just crisp and perfect. I enjoyed doing the Sheffield hog roast and I hope that they invite me back to work next year's meeting as I like the people and the city a lot, I just hope I can tie it in with the snooker championships!
What an absolutely exhausting week it has been, I'm not sure I have had a moment to myself! This past week I have been arranging a new car for work, moving house and sorting out my next job a bit further north than I expected!