The Best Hog Roasts In Shipley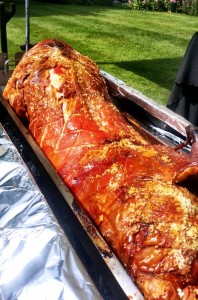 We've got a lot on offer at Hog Roast Shipley, which can help you make your party a memorable one… and one that will get guests talking about for years to come. A traditional hog roast is always a winner and will certainly have mouths watering when your friends and family arrive. They even look pretty great too, even if we do say so ourselves! A hog roast creates an undeniably, eye catching centrepiece that will be a nice little ice breaker, as it makes for an excellent conversation-starter. We've got two specialist machines available to cook your food, one which spit roasts the hog over a dry heat, whilst the second cooks it in an oven-like tray. The spit-roast method gives the pig more of a crisp texture, whilst the tray method allows the meat to tenderise in its own juices. Whichever cooking style you prefer, we'll make sure it tastes amazing so that your event is a success. We can also guarantee that the food we serve is as fresh as it can be. We're proud to say that we always source our food locally, so if you were wondering where we get the grub from… well; now you know! At Hog Roast Shipley, we're quite the early birds. Before your event even kicks off, we'll be there! Our trained staff and chefs will set up in advance, preparing the food and getting the machines fired up; so when your family and friends arrive, they'll be ready and raring to go.
On average; a single hog can serve up to one hundred people, so there should be more than enough to go around your guests. We've also got a range of menus on offer, so your guests can tuck into more than just a juicy hog roast. Our hand-picked menus offer plenty of variety; however, if there's something you'd rather change, just give us a shout! We'll be happy to help you create a menu to suit your own tastes and requirements, you can mix and match your menu to make sure everything about your event is truly your own. Although you can count on us to be there on the day of your event; we know that, sometimes, you'd prefer to take care of things yourself. Although this gives you a little more free-will, it can be quite the daunting task.
Leaders In Our Field
At Hog Roast Hire Shipley, we'll make sure you've got everything you need to get going, so you won't be overwhelmed on your big day when it comes to catering for your loved ones. You can hire either two of our machines, and we'll drop them at your event so they're ready to go when you are. We'll supply a gas bottle to ensure everything runs smoothly, and you can even purchase a second one, just to keep the fire burning. At Hog Roast Hire Shipley, we'll also help you find a pig to roast, which can be included in the cost of the hire. And, once your event has drawn to a close, we'll come and collect the machine again, so we'll still be there for you, even if you choose to take matters into your own hands. Whatever your event, whether it's a winter wonderland party or a sunny, summer's soirée; here at Hog Roast Shipley, we'll be there for you, taking care of your catering needs. Helping out every step of the way, from choosing your perfect menu to cooking the pig just the way you like it.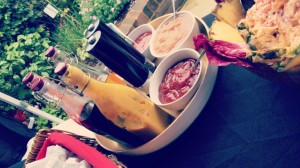 If you've got a crafts fete coming up, or an engagement party, school fair; or are just looking to throw the best BBQ of the summer, then you'll be pleased to know you've come to the right place! At Hog Roast Shipley, we've got the experience and expertise to cater for your event, whatever it is you've got in mind. Situated in west Yorkshire and by the River Aire and the Leeds and Liverpool canal, the historic town of Shipley has been the home to a few famous faces over the years, such as film director, Tony Richardson.  Today; Shipley is a simple town with all your modern-day amenities, such as an Arndale shopping centre and a popular community centre which often holds live music events… which we think would complement a delicious, crisp roast pork sandwich quite nicely.
So, what are you waiting for? Simply drop us a line and we'll be more than happy to help out with your preparations for your big day.