The Best Hog Roasts In Wetherby
Hog Roast Wetherby is available for all your hog roasting events. A family gathering? We'll bring our hog roast hire Wetherby to you, providing a feast that your family will still be discussing at every gathering you have in the future. Unless, of course, you are sensible and simply hire hog roast Wetherby again. Getting married in one of Wetherby's five wonderful churches? Well, what better way to celebrate that than with a good old traditional hog roast Wetherby in the grounds of our hotels, or your very own house. Or are you celebrating something else? A graduation, birthday, anniversary? Whatever reason you have for celebrating in Wetherby, you cannot fail to make the party go off with a bang if you bring in pig roast Wetherby we can cater just about anything it just depends on how much you are wanting to spend at your function we can supply just the hog roast pork roll as a snack or a full 3 course meal including our staff to cater the service to the tables your guests are sat at or we can do this buffet style if you prefer something a little less formal either way we are certain that your guests will tuck in to their meal and eat every scrap of meat they get given, It really is that good, our meat is moist yet tender and is a great way to feed your guests and save some money in the meantime it really can be quite cheap if you are catering for a large group of people the price works out really well!.
Leaders In Our Field
Being based just outside the main city, there can be no doubt that we face stiff competition for our place at the top of Wetherby's culinary delights. The city buzzes with food from every culture; the streets float with smells that will have your mouth watering. Residents of Wetherby are lucky to have such an array of flavours on their doorstep. But in such a beautiful and historical area, we should never forget the wonder of traditional British hog roasts. Succulent meat, superb flavours, enough food to feed a small army of guests. If you're planning a party today, get Hog Roast Wetherby and ensure the guests have something to remember.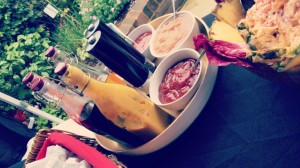 The second service, the alternative to catering, is hog roast hire Wetherby machine hire. An incredibly simple service you can use to have a hog roast in town at your party. When you hire a hog roast you're receiving a machine and endless possibilities for your party, you can cook whatever takes your fancy, the machines we rent out are the same machines we use for our catering service, which means you have the same choice as you would with our catering, and more.
For impeccable levels of service and unrivalled taste that our meat produces when it is cooked in our machines, contact us today we are sure to create a menu that you will want to book as soon as you see what we have to offer in front of your eyes for your budget , you will certainly get your monies worth with the service we provide so enquire today to make your event a great success.
With the grade-two listed Ancient Monument of Wetherby Bridge at its centre, this market town and civil parish is part of Yorkshire's heritage. But, with this ancient artefact at its centre, and the large number of old coaching inns which travellers have used for centuries, there is a certain beauty to this little borough that helps it to stand out from the rest of the city. Wetherby offers a refreshing change, a relaxing atmosphere, something of a village feel. Because of the amount of inns, which are the result of Wetherby's existence on the Great North Road running from North to South, Wetherby has long been renowned as a stopping point, a place to wet your whistle and fill your bellies. Spitting Pig hog roast Wetherby can confirm that this is still the case today. As well as the local fare in the many inns, Spitting Pig's hog roast Wetherby offer a varied and delicious alternative to your standard take away or fast food joint. Feeling hungry in Wetherby? What could be better than a freshly roasted hog, sliced and placed in a warm bap, with mustard, apple sauce, or any other condiment you desire?