The Best Hog Roasts in York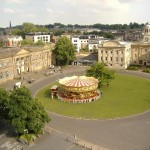 Who are we and what do we provide? We're Hog Roast York and we provide and put our heart into being the best hog roast event catering business- and it's paid off. Every year we cater for hundreds of customers, serving up food for hundreds of individuals, and they keep returning for more because there isn't another caterer with the aptitude for food as good as our, or the professional way in which we provide our hog roast York service.
A hog roast York is one of the best simple pleasures there is in the world, it's an ideal food to serve for a business breakfast. Corporate events are something we know back to front, but business breakfasts especially are one of our specialties. Lavish cuts of meat served with crispy crackling on bread rolls is probably the best way you can start the day, and if you're looking to treat your colleagues and potential business partners you'll impress them greatly with the delectable pleasure of a hog roast sandwich stuffed with freshly picked apples that have been blended in to our recipe for our specialist apple sauce with a scoop of stuffing and a slice of crunchy crackling just thinking about it makes me hungry so imagine how your guests will feel once they see the pig in action on the rotisserie attachment they will be fighting over positions in the queue to get to the beautiful hog and accompaniments.
The reputation of hog roast hire York party catering is the outcome of having the finest spit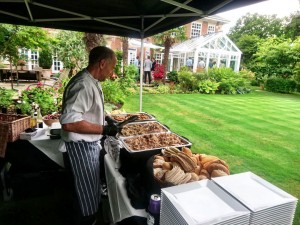 roast machines and chefs there is, elevated by a foundation of catering knowledge from decades of work in the industry. The hog roast chefs and hog roast machines that we make our hog roasts with are considered to be some of the best in the country and this is backed up by all the  queries we receive every month for a hog roast in York.
Leaders in Our Field
Hog roasting isn't something that everybody can do. It's often ignored by other people because they find it hard to get a foot in the door. A reason for that is that we're so good we've shut everybody else out! Our stranglehold on hog roast catering in York is well known and is more popular than ever, and if you ask anybody who's experienced our marvellous hog roasts hire York they'll tell you it's a well deserved position.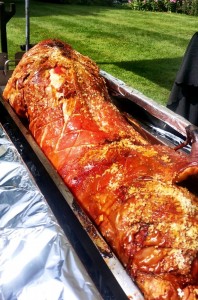 We make use of machines that can be used to cook the tastiest food either indoors or outdoors. The machines are state of the art and have been manufactured and also designed over years with help from professional manufacturers and design engineers to ensure maximum efficiency and the juiciest and freshest of meat and the pig the crispiest most tasty crackling you will have ever set eyes on for a hog roast York pig. with our input and control as aged hog roast experts we managed to make the best machines there is, and it really comes through in every service we create we are professional and great at our jobs we are able to provide a service to feed your guests and to leave them all bursting at the seems full of hog roasted pig , it's one of the biggest determining factors for our hog roasts tasting the best in the region.
If you consider us for your event catering we're hopeful that in the end you'll decide to book us – and we'll reward you with an epic hog roast York catering experience that tastes every bit as good as it looks and sounds you really will have no regrets as the meat alone speaks for itself and the side salads and dishes are also a treat to the taste buds fresh crisp and wonderful it really does complete the meal. We would be honoured to cater at your event. Making occasions exceptionally special is what we live for and we have the experience in catering to back up our promises and deliver you a pig roast York that's better than you can image.
York is known as a cultural get away place for both families and couples from the UK, a great town for a holiday full of vibrant people making it a memorable city with plenty to see and do, you will never be bored in this town if you are a resident or just visiting the town you are sure to be entertained if you and having a walk through the town.
York has an awful lot going for it when it comes to being an attractive town for people to spend a few days and one of the places that is really of interest is the Minster of course, with its stunning and elaborate architecture, but there is a lot more that makes this City a bit of a magnet for the crowds and fantastic olde worlde shops are a perfect example. They reek of history and show of in fine fashion how cramped the streets were back in the day. In fact you can almost smell the hog roast York aromas that must have wafted around these historic buildings.
Jorvik is another great way to spend some time in this historic city and it is certainly worth a visit, allowing you a fantastic opportunity to sample the varied delights of life as a Viking in York as it was back then. The Jorvik exhibition is a great way for kids to experience the fascinating sounds and smells of Viking York, though the smells are not all that pleasant, it has to be said.
York is indeed a fine place and it is no wonder that the many people who live in this fine city love a little bit of hog roast too, as this historic dish really does fit in beautifully into the whole York atmosphere. Close your eyes and you can almost imagine the York of medieval times and see the whole pig being slowly roasted over the fire. It must have been quite a treat for people back then to get a taste of this fine tasting food and it would looked quite marvellous. Of course, whilst medieval days are a long way behind us, the renaissance of hog roast catering means that modern day York is getting  a new opportunity to sample this fantastic feast, and see it being cooked in the slightly more elaborate setting that is the wonderful hog roast machines that are used today. If you want to experience the decadent taste sensation that is a hog roast York then you know what to do. Bring in the caterers and deliver the flavour!