Here at Hog Roast Beverley, we are renowned for our amazing hog roasts and our stunning spit roasts, as well as a huge selection of additional and alternative dishes. Regardless of the type of event or party that you're organising, or its formality, we have homemade food to suit all kinds of tastes and dietary needs, making our catering services the number one for variety and choice. This means when you book us, all of your guests will get to enjoy our delicious food, not just the majority.
For a 50th birthday celebration that we catered locally recently, we were asked to roast a hog and also provide three fresh salad dishes. A hog roast centrepiece at any kind of function is loved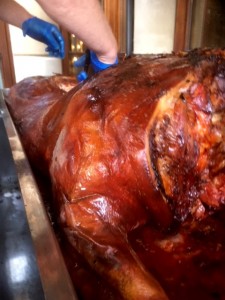 by guests; it looks great, fills the air with some wonderfully meaty smells and then the taste is something that will be remembered for years to come. The venue for this party would be one that's only been open for a few weeks so far, but has already received so many positive reviews. The Beverley Barn is a lovely wedding and events venue on Long Lane, in a beautiful countryside location. The spacious barn itself is a converted dairy barn with original wooden beams and it even features a herb garden and patio and there are horses on the grounds too. It's a magical place for any kind of party, to celebrate anything you can think of.
On the day of the birthday party, Hog Roast Beverley Chef Jon and his team arrived at the venue hours before service, as it takes ages to roast a hog to perfection. We prepare the meat on-site and the cook it from scratch so it's as fresh as can be when it's served hot to you and your guests. We watched over this pig as it sizzled away, ensuring it would be perfectly juicy inside and with crispy and salty crackling on the outside too.
On this sunny day, we also prepared a leafy salad, a cherry plum tomato and mozzarella salad, and our homemade coleslaw for the birthday celebrant and guests. Hog Roast Beverley had a great time serving the guests at such a stunning venue.