When you're planning any kind of party or event, whether it's large or small, formal or casual, and regardless of the venue's location, you need to know that you're in good hands, with specialists who prepare, cook and serve in style. You may be thinking of a huge, posh business event with hundreds of guests, set in a luxury hotel and featuring a menu of several courses, or a simple, small hog roast at home in your backyard, and either way, here at Hog Roast Draughton, we have extremely high standards for both our service and the fresh, homemade food that we're proud of.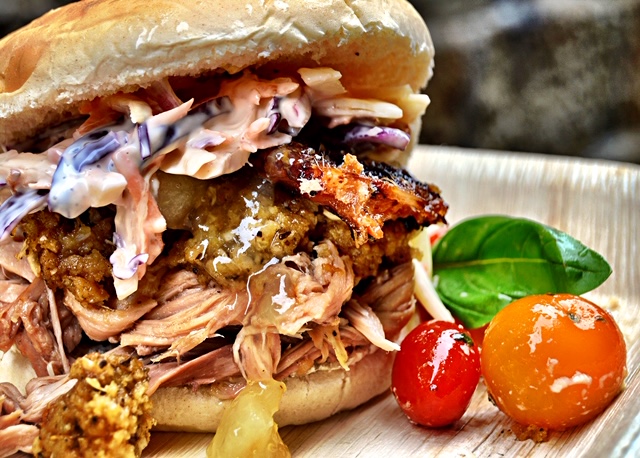 Don't let our name fool you, as we actually don't only cook hog roasts, so you'll see that our Hog Roast Draughton menus offer a wide array of options, including special standalone menus and options for those on special diets, as well as plenty of additional choices of canapés, starters, sides and desserts if needed. Pigs in buns and hog roast meals are often requested by our customers, both old and new, but we also often cook up a storm with whole-roasted turkeys or chickens, or a great hunk of beef or lamb, or a BBQ of various meats. Our standalone menus are also incredibly popular, like our Loaded Fries, which come complete with beef or pork, slaw and hot, melting cheese, or our Southern Slow Roast, where we serve three marinated meat mains and four sides of your choosing.
Hog Roast Draughton was recently asked to cater a work event, where our team impressed with piles of buns for most of the guests but also with vegan and gluten-free options too. The vegan main requested was our grilled veggie skewers, which usually have halloumi and a rainbow of vegetables, served with wraps and Tzatziki, but we can easily make them vegan by omitting the cheese. In terms of the gluten-free dish, we let our happy customer know that those guests could also enjoy our pigs in buns, as all we'd need to do was take along suitable bread rolls and wraps for them, as all the other ingredients are suitable.
On the day, we served up a great feast for everyone invited and everything we served was gobbled up in record time.