Whatever kind of special occasion you may be planning, Hog Roast Goldsborough work hard to ensure that everyone you invite gets to eat delicious, homemade food. We're all-inclusive, meaning we want you and all of your guests to enjoy what we freshly prepare, cook and serve, regardless of personal tastes, dietary requirements or appetite, and you can see just how much choice and variety we offer once you take a look at our extensive menus.
We're very proud of our signature food that's a part of our name – the good old traditional Hog Roast Goldsborough hog roast, made by lovingly prepping the meat fresh on the day of your party or event and then cooking slowly but surely for hours on end at a low temperature in order to end up with moist and tender meat and salty, crispy crackling. Nevertheless, we're also proud of our other homemade delights, including alternative meats that we can spit-roast or barbecue, options for various diets, specialty standalone menus like our Loaded Fries and Southern Slow Roast and plenty of additional dishes so that you can create a multi-course menu if preferred.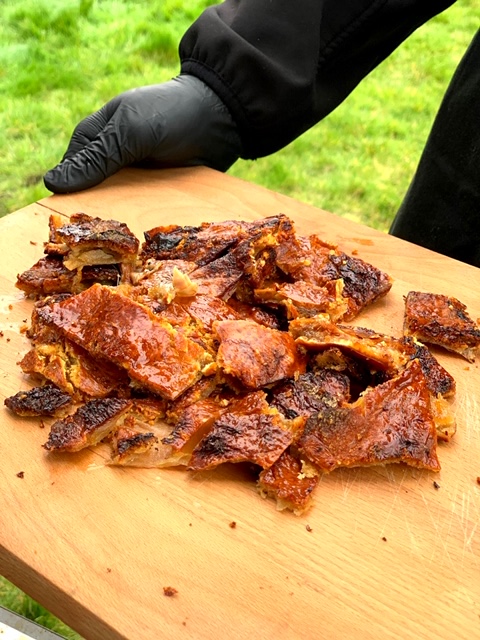 For many years, our expert caterers have satisfied many people, and not just hog roast lovers, so whether you're planning a simple one-course menu or several courses, to cater for hundreds of people or just a handful, and whatever kind of food that you have in mind, we will certainly do you proud and we're sure you'll be surprised at the cost, too!
Hog Roast Goldsborough catered a corporate function recently, where we cooked up a real storm with a hog roast made into dozens of pigs in buns, but we also impressed with much more. The event started off with a canapés service, where we wowed the guests with reception drinks, as well as grilled fillet of beef, halloumi kebabs, mini pizzas and duck wraps, followed by the amazing main course of our pigs in buns, which was accompanied by scrumptious sides of sweet potato wedges, mac and cheese and coleslaw – a great feast that was devoured in no time at all.