A small gathering for a wedding reception in the garden of a lovely old stone cottage in a quiet but pleasant village saw the hog roast Farnhill team crossing their fingers that the weather would hold out on a blustery Saturday in February.
The views from the garden in this picturesque hog roast Farnhill village were superb and despite the wind, the wedding party enjoyed both the stunning scenery and the tempting aroma of slowly roasting pig. Andy's cap blew off once or twice but the bride's mother obviously had stronger hat pins!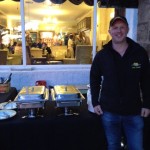 As the sun went down and the music began we served up our warming pork sandwiches with homemade stuffing to soak up the champagne and fuel the dancing.