It was perhaps the first bright Sunday of the year for hog roast Calcutt – almost warm when the sun came out from behind the clouds and our drive to the venue took us through some of North Yorkshire's most stunning countryside, and keenest cyclists – taking advantage of the early Spring sunshine.
Karen and Mark were celebrating Mark's 40th with a combination fancy dress party and a hog roast Calcutt, which made for a fun afternoon for us too – serving among others David Beckham, Torvill and Dean and Nigel Mansell – Mark being a sports fanatic as well as a fan of hot pork sandwiches.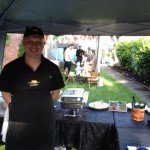 Everything went smoothly and it was a nice change not to have to combat the wind or rain of the past couple of months, and we were reminded how much we enjoy looking after Spitting Pig's Yorkshire business- it might be a far cry from Jon's Christmas in Australia but on a good day the countryside here is unsurpassed.