If you've been dreaming of cooking your own hog roast centrepiece from scratch, so you yourself can wow everyone at your next party or event, you simply can't go wrong with Hog Roast Biggin. When we hire out our equipment to customers, both old and new, we don't just drop it off and leave you to figure it out yourself; we're actively involved in the process, including showing you exactly how to use our hog roasters, regardless of the fact that they're so easy to use, as well as giving you tips on how to get the best out of it. We can also provide high-quality, locally-sourced meat if you need, to make it even easier for you.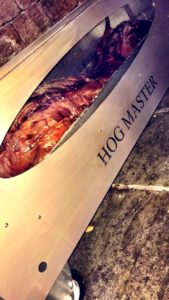 Whether you're a professional chef yourself, cooking for your customers, or you're a domestic cook wanting to impress your friends and family, it's useful for you to know that the machines that we rent out are actually our own brand, as we make several models in our Lancashire factory. They're the same ones we use ourselves when catering, so you can be sure that you'll be using the same top-quality equipment as we do.
Each of our models has its own advantages, so you could hire one of our smaller ones to cater for a soiree at home, for example, or a beast of a machine that cooks two hog roasts at the same time in order to cater for a large event of your own customers. Renting a machine from Hog Roast Biggin includes one of our highly-trained and experienced chefs taking it along to the venue of your choice (whether this is your home, a luxury venue or anything else you can think of) and walking you through it, which is all included in the price, and while we also leave you with instructions once you've got the hang of it, we're sure you'll find it as easy as pie.
For a hog roast machine rental that anyone can easily manage and at a great price that we don't think can be beaten, contact our Hog Roast Biggin experts today!