Before you hire our team for your event, you are likely to have questions about what to expect from our catering. Because of this, we have created a handy guide which follows Hog Roast Castleford on a catering job from start to finish, so you can find out exactly what to expect!
The first step to our catering process is to create your perfect menu. When you get in touch to book your catering, you will have seen a menu and catering style that you like the look of, so we will work with you to choose the dishes that appeal to you the most. We have a long list of dishes available for every course, so we are on hand to help you decide which is right for your guests.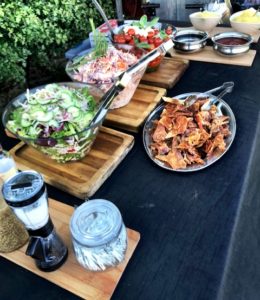 On the day of the event, we arrive well in advance to prepare and cook every dish on-site. Depending on the dishes you choose, this will dictate how early we need to arrive. For example, if you have opted for a delicious Hog Roast Castleford slow-roasted pig, we will arrive roughly 6 hours before to ensure it is thoroughly cooked. During this time we will also prepare all of your other dishes and get ready to serve to your guests.
The next step is serving our delicious food, ensuring every guest gets plenty to eat. Our team work hard to provide an excellent environment for your guests, making sure that everyone is enjoying their meal.
Finally, once your guests have finished eating, we can then begin to clear away any rubbish, machinery and equipment. This takes place discretely in the background, allowing you to continue with your event.
Hopefully this blog post has helped you to understand what you can expect from a Hog Roast Castleford buffet. We provide a complete catering experience, to ensure that you get the most out of your catering! We can cater to any event, with a range of different styles and menus. To book your catering today, simply let us know your party size, date, and location and we can begin planning your perfect menu!