A previous client of Hog Roast Holbeck, RSM, hired the team for a repeat booking. The event was for a corporate company client and was organised by Joseph from RSM in Leeds. The Hog Roast was for quite a large number of people and so the team had to work hard to ensure that all their guests would receive their food at the same time. The event was a fantastic opportunity for the team and was exactly what the Hog Roast team are good at.
The company had requested the food to be served as a lunch time buffet for the staff, in their break, while they were at work.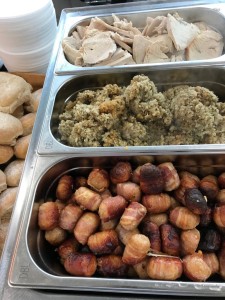 The Hog Roast was to celebrate the staff's hard work and to thank them for the effort they put into the company to ensure that it is successful. They had decided to choose one the Hog Roast Holbeck team's seasonal menus which put on a twist on the usual traditional hog roasts offered. They selected Menu One, which with its festive twist offered beautifully cooked turkey as the main meat served. In addition, the Hog Roast team cooked pigs in blankets and stuffing to compliment the turkey meat. Moreover, these were served with an arrangement of bread rolls and sauces to keep the buffet casual for the lunch time service.
The service was overseen by Hog Roast Holbeck's head chef, Jon, who ensured that all of the food was delivered at the staff's lunch time at 12:30pm. The event for one hundred staff members and, therefore, it was essential for the food to be ready so that no one would miss out on their food during their break. The Hog Roast was a fantastic success and was a great way to get all of the staff into the Christmas spirit. The staff appeared to really enjoy the food and the festive style food was eaten up quickly as they returned for second and third portions. The Hog Roast team worked hard to ensure that the food stayed warm and that all the food provided was packed with flavour and cooked to perfection.