Hog Roast Aberford were delighted to be contacted by happy couple Mona and Dina about catering their wedding celebration. The blushing brides wanted a very hearty, very special buffet for the 28 guests at their wedding celebrations.
The loves up couple knew exactly what they wanted for their buffet menu and the Hog Roast Aberford team was more than happy to put together a bespoke catering package for their special day. The clients were thrilled when the whole package fell within their budget for the catering.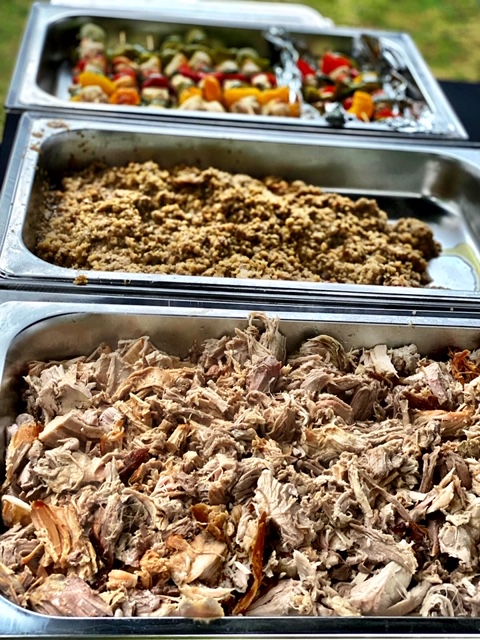 Dina and Mona were very excited about the whole process of the buffet production, especially as Catering Manager Andy from the Hog Roast Aberford team would be at the venue several hours before the serving time. They very much liked the interactive element of the buffet being created fresh on site, it added to the diversity of their wedding celebrations.
The delicious buffet that Chef Andy created for the event included the delights of a Whole Spit Roasted Turkey Served With Fresh Cranberries and Sage & Onion Stuffing as well as a tasty Local Free Range Spit Roasted Chicken Served With Chipolata Sausage, Stuffing and Homemade Onion Gravy. There was also vegetarian alternatives provided at the serving table. Other dishes included at the buffet was: piping hot seasonal vegetables and a new potato salad. And of course there was also a large basket of soft rolls and an assortment of sauces for the guests to enjoy too.
Experienced Catering Manager Andy had no trouble creating the whole buffet from scratch in time for the 5pm serving time. He had arrived at the private hall venue several hours before the serving time, allowing himself enough time to set up the cooking equipment and serving table.
When the guests arrived the production of the buffet was one of the central entertainments at the party. Andy was glad to interact with the guests and answer their questions.
After the guests and newlyweds had partaken of the buffet Andy quietly and discreetly tidied away. The party had been a brilliant event that the team were thrilled to have been a part of.