The Hog Roast Huby team were relieved when the weather dried up for their event on a weeknight. The deluge of rain had a brief pause, just long enough for Chef Jon to create and serve a delicious, hearty buffet to a victorious hockey team.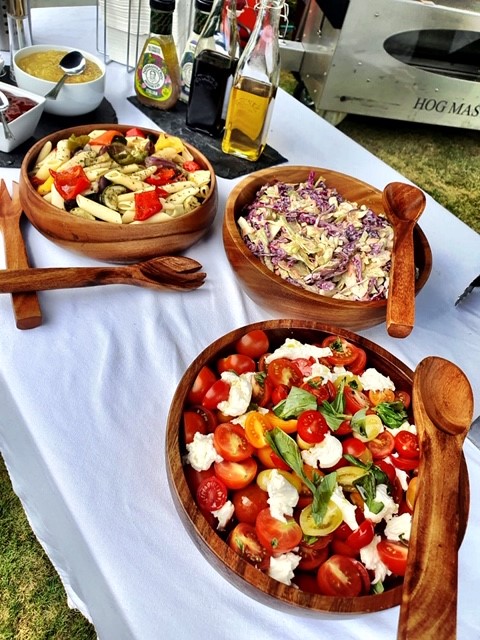 The client for this event was a Hockey Club, and team member Lezann liaised with the team to put together a hearty buffet menu. The brief for the event was simple: feed the hockey team after their midweek match. The meal had to be sufficiently filling as it was being served at 7pm, and would therefore be the main meal that most members had for that day. The Hog Roast Huby delivered exactly that- a tasty and filling meal.
Chef Jon had plenty of space in the field surrounding the enclosed AstroTurf pitch to set up the cooking equipment and catering gazebo, complete with lights. He got straight to work prepping the dishes for the buffet, as all were made by Catering Manager Jon by hand.
The menu for the buffet was focused mostly around a Classic Hog Roast. This was a slow spit roasted pig that was scored and sizzled under Chef Jon's watchful gaze. The Classic Hog Roast also included crispy crackling, homemade sage and onion stuffing and tangy apple sauce. There was also lots of other dishes on offer! These dishes included: grilled vegetable and halloumi skewers, BBQ Pulled jackfruit, and Mediterranean pasta salad and last but by no means least, steaming hot baked potatoes.
The buffet was warm and hearty for the players to tuck into after their match, and it was a celebration as the team had won against their rivals! As part of the catering package that client Lezann had put together with the Hog Roast Huby the team provided disposable crockery and cutlery for the team to use.
After the buffet had been enjoyed the rubbish was gathered together discreetly by Chef Jon. This was then later disposed of responsibly by the team.
The event had been a great success and impromptu celebration. The hockey club members had a great time.