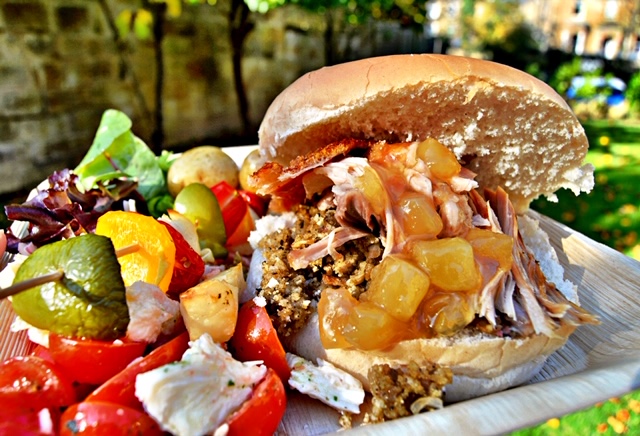 If you are looking for some superior outdoor catering in a scenic setting on the edge of the Vale of York, Hog Roast Boroughbridge are the number one choice for any event in the area. We are the leading local suppliers of hog roast catering services and also offer a multitude of modern menus that are ideal for any occasion.
We are comfortable catering in any outdoor setting or indoor venue and we always deliver outstanding results regardless of the location we are catering in or the scale of your event. If you need to feed a lot of people and want high quality, freshly cooked fare, our trademark hog roast sandwiches served with crispy crackling and homemade apple sauce are an ideal option.
We provide extensive buffet options and formal 3 course meals, depending on your requirements, and all of our menus can be adapted to meet the diverse tastes and dietary needs of your guests. In addition to our delicious pork, we also offer a variety of different meats, including beef, lamb, chicken and turkey, as well as a variety of vegetarian dishes.
Menus Perfect For Any Occasion in Boroughbridge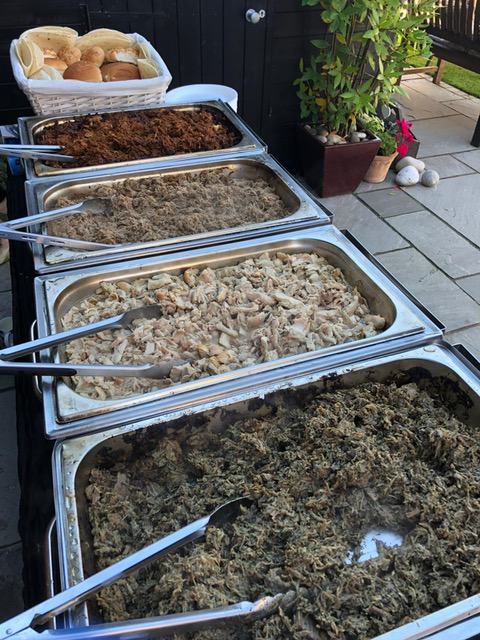 Our seasonal and themed menus are great for office parties and events taking place all year round, whilst our elegant 3 course meals and canapés options are the perfect culinary choice for sophisticated wedding receptions. All of our menus are freshly prepared on site by Hog Roast Boroughbridge's dedicated catering team. Whilst your choice of meat is being slowly roasted, our multi-tasking catering assistants will be working hard to bring all of the other elements of your meal together. Everything we present to you is made using the freshest locally-sourced ingredients, immaculately presented and served right on time.
We can serve your menu as an enticing buffet and provide support and advice to your guests as they serve themselves. Alternatively, if you want a more formal feel, we will bring our professional events team along to provide a warm welcome to your guests and attentive service from start to finish. Hog Roast Boroughbridge can give you great food that can be freshly prepared in any venue, with enough variety to suit all tastes and budgets and a bespoke style of service that will complement your event perfectly.