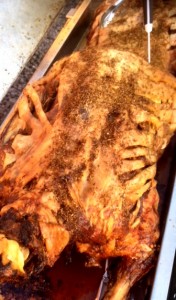 When you contact Hog Roast Bradford about an impending social occasion that you're thinking of having catered, you'll find friendly, professional, knowledgeable staff who clearly care about helping you to make your party or event a great success. Regardless of the type of occasion, the party location, the number of guests or your budget, we treat all our customers and their guests the same and want everyone to enjoy our delicious food, and that's why we have plenty of options for all kinds of preferences and diets. While we love to cook a good old hog roast, as our name suggests, we can and do cook so much more, including spit-roasted beef, turkey, or chicken, several courses including meat, fish and veggie options, a barbecued meat selection or additional choices for vegans, vegetarians, and gluten-free guests.
When Hog Roast Bradford was contacted recently about catering a formal-style garden party in Wilsden, it was for a scrumptious spit-roast spring lamb for around 50 to 60 guests plus plenty of our yummy homemade canapés to start the evening off. The lovely village and civil parish of Wilsden is only a few miles west of Bradford and somewhere where we often cater private parties and sometimes wedding receptions.
We have many menus to choose from and encourage our customers to devise their own menu if required, but in this case, our customer knew they wanted a slowly-roasted hunk of lamb served buffet-style alongside warm new potatoes in a herb butter, freshly-prepared salad and coleslaw and a selection of bread rolls. We serve the lamb with rosemary, mint and a mustard and dill sauce, plus provide extras such as condiments, stuffing if preferred and lashings of our homemade onion gravy. We make everything homemade where possible and ensure fresh and quality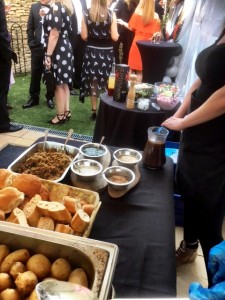 ingredients are used to make tasty food that we know customers will love and that's why we have lots of repeat custom.
On this sunny day, our Hog Roast Bradford team arrived in Wilsden hours before the evening service in order to prepare the lamb and start slowly roasting it for several hours. By early evening time, it was time to start carving it up, dishing out the sauces and slicing the bread rolls, and then filling some hungry tummies.