Hog Roast Leeds were delighted to be asked to cater for Walkers Transport at Morley Rugby Club for approximately 120 guests.  The organisation is a significant employer in this area and wanted something different for the event which included an Igloo Disco!  I suppose a good question is "What on Earth is an Igloo Disco?" and we certainly did ask that question when the client approached us to cater for them; apparently it is a disco in an inflatable igloo which sounded like tremendous fun not that anyone at Hog Roast Leeds is a good dancer!
Hog Roast Leeds regularly caters for organisations and other corporate events and has created a selection of five menus to cater for different requirements ranging from Our Firm Favourite Classic Slow Roasted Hog in a Roll or Wrap suitable for stand-up informal gatherings through to formal events that requires sit-down service.  This client wanted a varied choice of food suitable for different tastes and requirements including vegetarian options and we liaised carefully with them to ensure that the correct choice was made; for this event, the client opted for Menu 3 which includes our Slow Roasted Hog served with a wide selection of salads and vegetables.
As well as catering for corporate events, Hog Roast Leeds regularly caters for private parties, charity events and weddings with varied menus to suit any occasion and in all cases, we liaise very closely with the client to ensure that all expectations are met.  This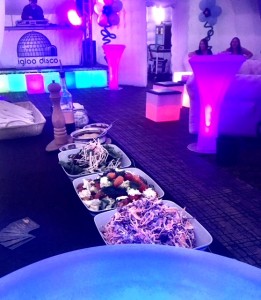 includes when and where to set up and, in this case, careful co-ordination was required between the Igloo Disco organisers and ourselves to ensure that there was enough room for loading and setting up and so that the guests could have something to eat after they had danced their feet off in the Igloo!
All in all it was an exceptional event with many guests commenting on how good the food tasted and the professional service and yes, we did have a go in the Igloo with chef Jon, stealing the crown as disco diva!