We seem to have been consistently lucky with the weather for our hog roasts this year and Sunday's event near Calderdale happily continued the trend. It can't be overstated what a difference it makes to a day's work to be in the sunshine surrounded by people in a celebratory mood – not everyone's 9-to-5!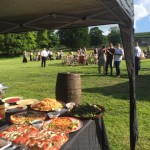 We were helping to celebrate Jessica and Oliver's wedding and it was a pleasure to do so – the huge number of friends and family in attendance obviously agreed with us. A retired farm in the rolling Yorkshire Dales made for a beautiful venue. 'Retired' farm means all the bucolic, picturesque countryside beauty and none of the more down-to-earth smells of manure! In contrast guests confirmed that they were met rather by the mouth-watering aromas of a whole hog roast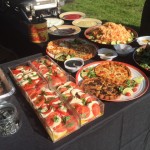 Calderdale , a whole roast lamb and two Scottish salmon wrapped and slow-cooked in butter and lemon. Our efforts were highly appreciated by hungry guests and complimented by the on-site ice cream the happy couple had organised. Sadly by the time we packed up the ice cream van had driven off into the sunset – still, not a hard day at the office for team Yorkshire Spitting Pig.