The day was Huddersfield Town Football Clubs family fun day. Spitting Pig Yorkshire had been working hard all day to ensure the 250 family and friends were going to be well fed after the teams Sunday afternoon training session. Adam being a big football fan recognized a few of the players that were showing off their skills the to growing crowd.
Andy  had a few impressive moves of his own as he skillfully removed the crackling from one of the two slow roasted ethically sourced free range pigs that we order through the Three Dales agreement, meaning all our pig come from in a 60 mile radius.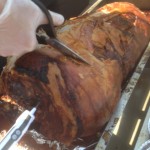 The line for the Huddersfield Hog Roast in Huddersfield began to grow quickly, this is where our team work and preparation became apparent as the hungry guests were all served a succulent Huddersfield hog roast sandwich to accompany there freshly prepared salads.
The team and their families were energized and ready for the rest of the nights activities knowing that they had just had a taste of a premier league hog roast.