Days like this remind me why I love my job! I have just arrived back from a wedding reception in Yorkshire where our entire team was caught up in the romance of the day. The lovely couple hired us a few months ago after a few of their friends had recommended them to us. Understandably they were nervous because it was their big day so we did our best to provide succulent and tasty food!
The reception was held in a charming little hotel not far out of Sheffield, we arrived early in the morning so we would have enough time to prepare the gorgeous meal. The couple had opted for a indoor buffet, one of our more popular options, and guests were lucky enough to enjoy our famous spit roast pig and multiple crispy salads and delightful sides.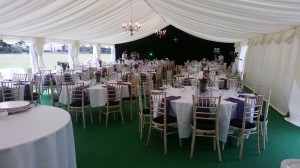 We were so pleased that the whole day ran very smoothly, there is always a significant amount of pressure when we get hired for a wedding, because we know how important the day is for the bride and groom.
The newlyweds seemed to be very elated when they arrived for the reception and all the guests were very glad to find out that food wasn't far away. As usual, we started quietly plating up the buffet table as the wedding speeches took place, being entertained by the many embarrassing stories of the bride and groom.
As we watched the guests and wedding party enjoying our food, we felt that familiar sense of pride knowing that we had once again prepared an excellent meal for our customers.
Once we had discreetly and quickly tidied up after the wedding party and marveled at the lack of left overs it came time for us to leave. We were warmed to see that we had people coming up to request business cards; we always love this part because it means that everyone enjoyed our food. Customer satisfaction is at the heart of everything that we do, and it really means so much to us when we hear lovely compliments, we are always more than happy to give out business cards and chat to potential customers.