Hog Roast Wakefield is renowned for serving locals tasty dishes at an affordable price, but we also cater in other areas too when either asked by a client or by one of our other franchises. We were recently asked to cater an event in Leeds, for TPP, who is based on Low Lane in Horsforth, but we would be catering at Hopwood House in Horsforth instead. TPP is a leading healthcare technology company, which delivers healthcare software all around the UK and internationally too. Their core product, SystmOne, is used by over 200,000 clinicians across 7,000+ organisations, including more than 7,000 NHS organisations.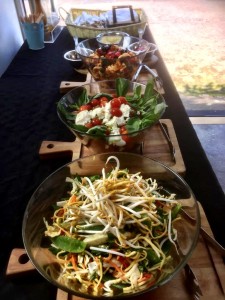 For this particular event, we were asked to cook our highly popular Menu 3 of a slow-roasted pig served together with garden-fresh salads or seasonal vegetables for 30 people. It's the perfect way to enjoy a relaxed, informal meal with your guests and you don't even have to worry about the clean-up or doing the dishes afterwards!
Louisa booked Hog Roast Wakefield in for the centrepiece hog roast and asked for three different salads as well as roasted baby new potatoes. We always serve our delicious hog roast with our homemade duo of sage and onion stuffing and apple sauce, as well as fresh bread rolls and wraps and a variety of condiments. The price includes the food served as a buffet by our professional chefs from our serving tables, and we use disposable crockery and provide napkins. We prepare everything fresh while the hog roasts away for hours and then serve at the optimum temperature once the meat has rested a short while.
On the day of the event at Hopwood House, Hog Roast Wakefield Chef Jon and his team got busy setting up our equipment and preparing the pig for its roasting. We put together some lovely salad dishes – a tomato and mozzarella salad, a Thai salad and a pasta salad – which all looked tasty and were great accompaniments to the meat itself. We are often asked for a veggie option, as we were for this party, and we grilled yummy veggie skewers with pieces of halloumi as an alternative option. Once the hog was ready, it was finally time to carve and fill some hungry tummies.