You may only think that we offer our catering services to all kinds of parties here at Hog Roast Kingston Upon Hull, however that is where most people do stand corrected. We offer out our machine hire service to any budding hog roaster or even someone that just wants to give it a go themselves. We have many regular customers that want to hire our hog roast machines, however over the summer we find many are wanting to hire our machine to jazz up their annual summer BBQ and impress their family and friends.
That's exactly what Mark from Kingston Upon Hull was looking to do recently. He gave us a call initially not knowing what to expect and what we offered, so after we had explained all our services to Mark he knew straight away he wanted to hire one of our machines and take charge of the catering himself! He said it was the best way for him to show all his family that he could cook! (He did ask us for a few sneaky tips though!)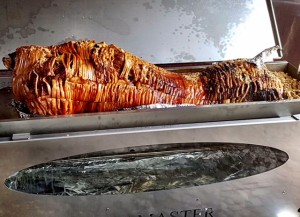 When one of the chefs from Hog Roast Kingston Upon Hull dropped the machine off with Mark on the morning of his event, he helped Mark prep the pig and light the machine so all Mark needed to do was wait for around roughly 8 hours and his pig would be perfectly cooked ready for his guests. As the guests arrived Mark followed his instructions given by the chef and checked the pig at certain times to ensure the pork would be perfectly cooked. Right on time Mark's brother James helped him lift the pig out of the machine and all his family and friends watched on as Mark stripped the pig and pulled pieces of succulent pork off the bone ready for the guests to fill their rolls with.
Mark had plenty of compliments on the day and when we collected the machine some of his family members told us how impressed they were and wanted to know if they would be able to do it themselves as Mark made it look so effortless. Even though Mark was a little bit nervous about cooking the pig himself he said it made his party even better than previous years. Hog Roast Kingston Upon Hull machine hire is definitely a winner with Mark!