It's a new year and for the vast majority of us, it's time to wave goodbye to the festive season and strap in for another year of hard work. But as members of the Hospitality industry, we here at Hog Roast Skipton know all too well that Christmas for some, is not a time of relaxation, but a time when we're called into work twice as often, and have to work doubly as hard. Of course our professional teams such as the marvellous Hog Roast Skipton crew, take to this challenge like a duck to water, and are all too willing to help make Christmas special for others. But if you and your co-workers were unable to celebrate this year because the schedule was too hectic, then just remember it's never too late to celebrate, and a mid- January Christmas party may be just the thing.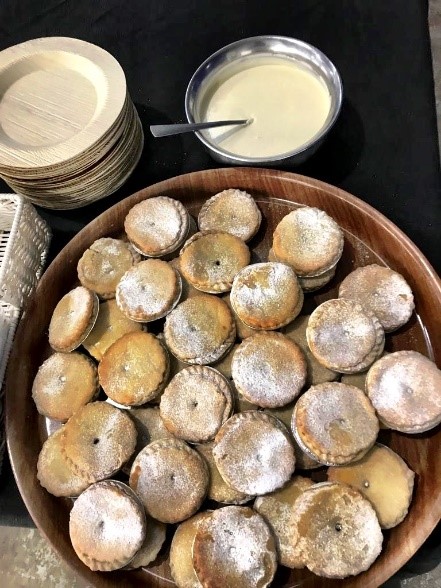 The team at Hog Roast Skipton were responsible for many corporate events over the Christmas period and one of them was at Gaist Solutions. For over ten years, Gaist has been researching and developing systems that provide high quality survey data that is specifically designed to meet the demands of whole of life Highways asset management. We were contacted by Jenny, who selected the Full Festive Menu, with an option of Portobello Mushroom and a Halloumi burger for vegetarians, and a special requirement of Gluten free bread rolls.
It was a twelve noon serving time on the day of the event, by which time our chef Jon had roasted the Turkeys to a wonderfully golden hue. Our 35 guests were to be fed like royalty this lunch time. The meat was served in accompaniment with the Homemade Cauliflower Cheese, a seasonal Vegetable Medley and homemade gravy. Of course no festive menu would be complete without Pigs in Blankets, or the crispy Roast Potatoes with light, fluffy innards. The remarkable Christmas roasts were served on our high quality wooden crockery that came with disposable napkins. After our guests were fed and had let their stomachs rest, Jon brought out the Mince Pies, served with warm Brandy cream, to make them that little bit sweeter.
The team at Gaist were thankful to Jon for all the wonderful food and service he had provided. Representing the team at Hog Roast Skipton well, he discreetly cleared up after himself and disposed of any waste off site.