Last week Hog Roast Hebden Bridge were contacted by Andy. Andy was hosting a birthday party for his parents and wanted to really wow them with a Hog Roast Hebden Bridge. However, when he saw on our website that he could also hire his own hog roasting machine and impress his parents further by cooking the whole thing himself he simply couldn't resist and gave us a call right away.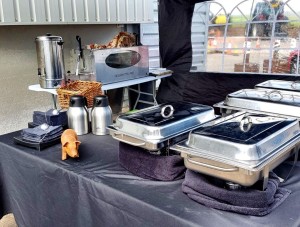 We were more than happy to help and advised Andy on the best machine for his needs, which in this case was the Hogmaster Pro. As he was only cooking for a small group he didn't require one of  our larger machines such as the Titan or Platinum. Also, by hiring the Hogmaster Pro, he could cater either indoors or outdoors depending on the weather and had the added benefit of the machine being so light and easy to manoeuvre.
As Andy had never really cooked much beyond beans on toast before, we also gave him a Hog Roast Hebden Bridge crash course in the art of hog roasting. He was relieved to hear that the machine really does the majority of the work for you it's just as case of scoring the meat before it goes in and keeping an eye on it as it slow roasts for a few hours. We had plenty of faith in Andy but now he did too, and he was all prepared ready for the event.
When we arrived to pick up the machine from Andy we were impressed with his report from the event. He said his parents were in pure disbelief that he had actually cooked for them and that it was of such good quality. The only downside? Now he had no excuse for not cooking for them more often!