Hog Roast Ripley has had the pleasure of catering many different kinds of events and parties over the years since we've been established, with wedding receptions being particularly popular, as they always have been for this type of food. Hog and spit roasts were long thought of as food for the rich or famous, and in recent years, that meant being featured at lavish, posh weddings. These days, however, a hog or spit roast is really suitable for just about any kind of occasion that you can think of and when it comes to weddings, you can enjoy a Hog Roast Ripley feast no matter the formality, budget or number of guests invited. 
We recently catered an informal wedding reception at a village hall, where the couple had booked us in to provide our luscious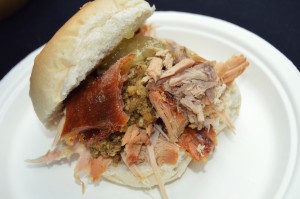 pigs in buns for the main meal, served buffet-style. Otherwise known as hog roast rolls, these meaty slices of heaven come about after we have roasted a hog from scratch at your venue, usually for hours and hours, and then once perfectly cooked, we let the meat rest before carving off the crackling and slicing up the pork. Once we've filled trays with both, we're ready to cram bits of each into soft bread rolls (or wraps if you prefer), top with our homemade apple sauce and homemade stuffing, then hand over to you and your guests to add your choice of condiments.
On the day of the wedding, Hog Roast Ripley arrived at the venue in the morning, several hours before we would be serving. After setting up our gazebo, serving tables and hog roast machine, it was time to prepare the meat and then start it cooking. As it sizzled away, the hall was decorated with banners and bunting and before long, it had been totally transformed.
We had also been asked to provide a vegetarian option of veggie skewers and two salad dishes, so later on, while the hog was still roasting away, we grilled the skewers, prepared the fresh salads, sliced the bread rolls and got out the sauces, and then we were finally ready to serve the happy couple and their guests.