As the holiday season gains momentum, it's easy to get swept up in the twinkling lights, the gorgeous aromas of festive food, and the anticipation of unwrapping presents under the Christmas tree. However, as we creep closer to December, it's important to remember that there's another holiday, which calls for just as much attention: New Year's Eve.
New Year's is a symbolic transition into a brand new chapter, and what better way to usher in 2024 than with a celebration that dazzles as much as the Christmas festivities?
However, with the hustle and bustle of holiday preparations, we know that the idea of returning to the kitchen for another round of cooking might seem daunting. But fear not, because Hog Roast Bedale is here to help by making your New Year's Eve celebration as seamless and stress-free as possible. Our first-class catering service promises a culinary experience that will elevate your festivities to new heights!
Ensuring your event goes off without a hitch is Jon, our dedicated catering manager, who believes that nothing is ever too much trouble for our valued customers. In true Hog Roast Bedale fashion, Jon's commitment to excellence means all you have to worry about is enjoying yourself – he and the team will take care of the rest!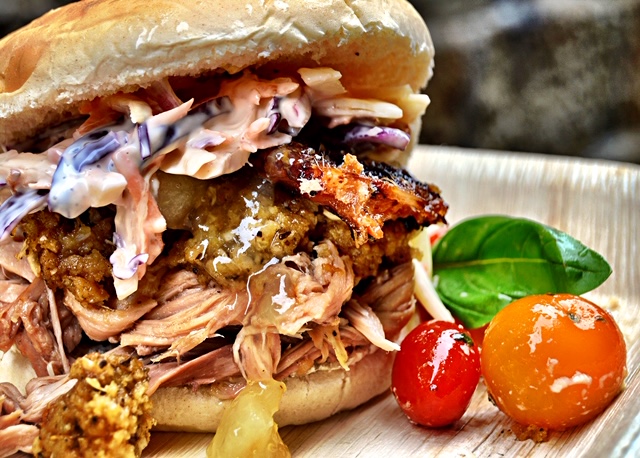 Now, what sets Hog Roast Bedale apart from our competitors is our truly expansive menus, which are designed to entice every palate. This means whether you are envisioning a grand festive feast to countdown to midnight or a laid-back hog roast buffet, we've got you covered. Or, if you have something more specific in mind, why not create a completely custom menu? Combine your favourite meat dishes, sides and meat-free alternatives for a bespoke banquet that will leave your guests thrilled and your taste buds tingling with delight.
This New Year's Eve, don't just mark the passage of time; celebrate it with style and flavour, courtesy of Hog Roast Bedale. Allow us to be the secret ingredient that transforms your New Year's Eve celebration into a gastronomic extravaganza, leaving you free to savour the moments and make memories that will last well into the coming year.