When you are looking for caterers we believe they are key factors to consider; will the food please all of the guests, are the staff professional and reliable, and finally is it affordable? Well we at Hog Roast Beverley have all those factors covered. A Hog Roast that we provide is sure to please everyone (including the vegetarians), our staff are fantastic (if you don't believe us take a look at our reviews) and of course we make it as affordable as possible!
When Jane enquired with us she was just as shocked herself at how we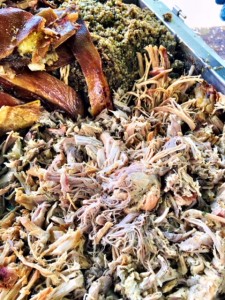 made sure that we had all the aspects taken care of. Once booked, all she needed to do was sit back and relax until the day of her event. Even then there was still no hassle from us as we are fully self-sufficient, and try to be as discrete as possible, especially as she was hosting her party in her garden. We set up at the end of Jane's garden a few hours before we were due to serve to ensure that everything was prepared and ready on time. The team at Hog Roast Beverley had already liaised with Jane the timings as she knew she wouldn't be there at the time, as we don't need access to the house this wasn't a problem.
The sun was shining and we were enjoying cooking in the lovely weather for a change! Jane had arrived back from the beauty salon ready for her guests and she could smell the hog roast as she pulled up on her drive. The guests soon arrived and before we knew it the garden was full with plenty of guests eagerly awaiting some delicious pulled pork rolls! We had some hot dogs prepared for the kids but many of them were wanting to try the pulled pork which surprised some of the parents, but we had plenty enough for everyone to have seconds. We plated up the remaining pulled pork and rolls for the guests to enjoy later on, that's if they did find any room to squeeze some more in.
Fantastic weather for a lovely garden party, and we at Hog Roast Beverley discreetly left with all of our rubbish leaving Jane to enjoy the rest of her evening with her guests.