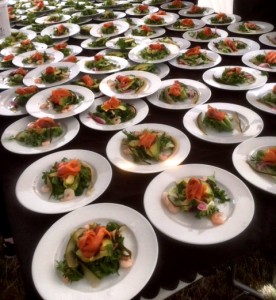 Hog Roast Harrogate is a very popular option for wedding meals, as well as many other kinds of parties and events, both nearby and further afield. We've catered countless birthday parties, anniversaries, engagements, corporate functions, christenings and so much more over the years, proving that a hog or spit roast really is suitable for anything you can think of in these modern times. Nevertheless, we can also provide so much more than our sumptuous hog and spit roasts, as we offer plenty of dishes to suit all tastes, whether you want a barbecue, several courses of meat and fish or even if you need special diets catered. From vegetarian to vegan and gluten-free to dairy-free, as long as we know in advance, we can ensure that all your guests will be well-fed and satisfied at your party or event.
Hog Roast Harrogate was asked to cater a wedding at The Old Farmhouse in Bickerton for 100 people recently. Bickerton is a pleasant village in North Yorkshire, near to Wetherby, so not too far from us. We were asked to provide starters, a main and dessert, with the starters and desserts served to the guests seated at their tables, and with the main course served buffet-style. For this wedding reception, we would be serving starters of salade Niçoise, Parma ham and smoked salmon, the main course would be our traditional hog roast with additional sausages, as well as vegetables and salad, all served buffet-style, and we would be serving our delicious sticky toffee pudding dessert. All the food on this day would all be served on real crockery.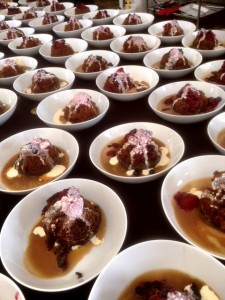 Hog Roast Harrogate arrived several hours before service, to prepare the meat and then start roasting the hog to perfection. It takes a good few hours, as we cook it slowly and at a low temperature, which gives us lovely, tender, juicy meat inside and crispy, salty skin. We pride ourselves on our service, and this includes presentation, so on the day, as usual, our colourful starters and desserts all looked gorgeous, once we had arranged them perfectly.
The bride and groom and guests arrived and it was soon time to start serving them some of our gorgeous food.