When planning a party or event and thinking about choosing a caterer, you'll need to know that they're capable, reliable, professional and, of course, that they provide great food that all your guests will enjoy. The Spitting Pig Yorkshire is all of this and much more and we ensure that we go the extra mile to help make your social occasion a huge success, whether it's a birthday celebration, an engagement party, wedding reception or corporate event (or pretty much anything else that you may have in mind!)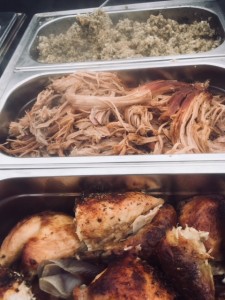 For Clare's 40th birthday at Oakwell Hall at the weekend, our catering team provided some delicious fare that went down a treat with everyone. Oakwell Hall in the village of Birstall is such a great venue to host any kind of event. Built by John Batt, this Elizabethan manor house is surrounded by more than a hundred acres of country park and some beautifully restored gardens. The 16th-century building itself is listed and run as a living museum these days. Oakwell Hall is also an ideal wedding venue as it's licensed for civil ceremonies and partnerships, and we have catered hog roasts there in the past for wedding receptions, too, providing yummy comfort food to a bride and groom and plenty of hungry guests. We know how much Yorkshire folk love a good spread and we offer all kinds of menus and alternative choices in addition to our hog and spit roasts.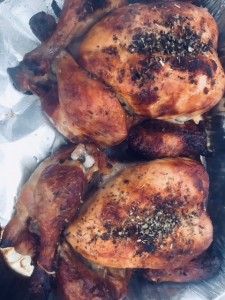 So, back to Clare's fabulous weekend party! In addition to our gorgeous, renowned hog roast that we cooked for hours and hours and was accompanied by our homemade stuffing and apple sauce, as is traditional, we also brought along some lovely chickens. We slowly spit-roasted them until they were dizzy and they turned out a lovely golden-brown colour on the outside but the meat inside was so tender and moist. We also freshly prepared some salad dishes on the day, which were also devoured with relish.
We had so many compliments and some guests asked us about future bookings, which is the greatest compliment we can receive from anyone who has tried our food. The Spitting Pig Yorkshire loved catering this great party and we'd love to cater yours too!