Spitting Pig Yorkshire had a smashing St. Patrick's Day in Harrogate's Starbeck over the weekend. We provided the tasty food for around 100 guests at a St Paddys cèilidh (social event) at one of the two St. Andrew's Church halls on the High Street. St Andrew's falls under the Diocese of Leeds and is a diverse and inclusive evangelical Anglican church. They hire out their halls for special occasions and events and one of the halls even has a fully-equipped kitchen, which can be very handy for parties like this.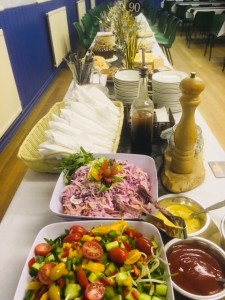 In such a large and well-ventilated space, we can easily cook a Hog Roast or Spit Roast indoors, which customers and their guests are often very thankful for at the coldest time of the year. It may be nearly spring but with the recent snow all around the country, an inside hog roast gives you warming comfort food for the soul and you don't even have to wear your hat and scarf while eating it!
In addition to our famous pigs in buns, for this party we provided a lovely, colourful mixed salad and homemade coleslaw. The hog itself we roasted for several hours on-site until the skin was crispy and golden and produced gorgeous crackling and the meat inside was incredibly tender and moist – just how we like it. We offer all kinds of options for those guests who may have dietary requirements and for this Hog Roast Harrogate event, we supplied gluten-free bread rolls, so that everyone could enjoy the same food as each other. If you have vegetarian, vegan or dairy-free guests, we can always cater for them too, as long as we have advance notice, and if there are any other dietary needs, we will do our utmost to provide options for them too.
With a serving time of between 5.30pm and 6pm, we ensured that the centrepiece hog roast was cooked in time and rested for a little while before we cut into it. This cèilidh was a great success, and our team at Hog Roast Harrogate discreetly cleared away and left dozens of satisfied guests to happily dance the night away.