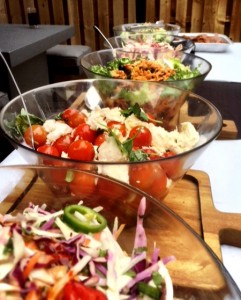 Hog Roast Leeds has had the pleasure of catering many weddings over the years as well as corporate events and private parties, both locally and further afield. We have the capabilities to cater both large and small functions, whether you have invited just a handful of guests or several hundred, and we treat our customers all the same either way. We were recently asked by Pam to cater an event at a private house in Leeds, to celebrate a milestone birthday. The 60th birthday celebrant and 60 to 70 guests would all be treated to our popular Menu 3, which features a succulent hog roast slowly roasted for hours and hours until tender and juicy inside and crispy and crunchy on the outside, and is served with a selection of fresh salads or vegetables, depending on your preference.
Pam asked us to put together some lovely salad dishes for this event, and also asked us to provide additional food. We have so much choice here at Hog Roast Leeds that if you need alternative or additional dishes served, everyone will be satisfied. For this party, we would be cooking extra sausages and also some veggie skewers, which would be suitable for vegetarian guests. Featuring delicious pieces of halloumi and fresh vegetables such as mushrooms, tomatoes, peppers, red onion and courgette, our skewers can even be made vegan instead by omitting the cheese.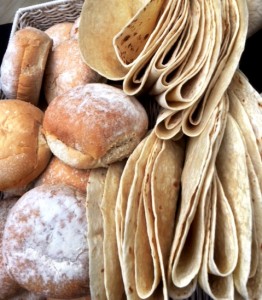 On the day of the 60th birthday celebration, our Hog Roast Leeds Chef Jon and his team arrived in the afternoon, hours before the 7pm food service. First on the list of things to do was set up our equipment, including our gazebo, serving tables and the hog roast machine, including the fat hog itself of course. We usually prepare and cook the meat on-site at your venue, and serve just after resting, which ensures great taste, and great smells too while it sizzles away. This pig was soon cooking slowly at a low temperature while we watched over it.
By 5pm, the party was in full swing, and by 7pm we were getting ready to serve plenty of our scrumptious fare to the hungry guests.