Hog Roast Halifax were delighted to be asked by Jeff Gill to cater for 150 guests at the Halifax Agricultural Show on Savile Park Moor in Halifax, Yorkshire as part of their annual event to showcase livestock and host family events.  Catering for this type of event is something that Hog Roast Halifax excels at alongside catering for weddings and private events and a selection of menus is available that will ensure that guests will always go away fulfilled and satisfied that the food that they have eaten has been high quality, delicious and with a professional service.
Our chefs and menus can cater for a wide range of events with our firm favourite classic slow roasted hog served in a roll or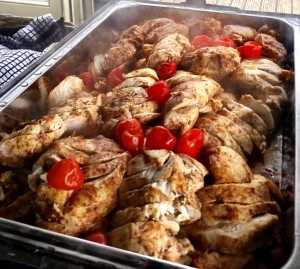 wrap the most popular but we also regularly cater for formal indoor or outdoor buffets and sit-down events too.  For this show, the client wanted a cold buffet with the roast hog centre stage but with chicken as an alternative meat option and to be served to specific guests between 12.30 and 3pm to the relevant sections; this needed to be specifically co-ordinated to cater primarily for 75 guests in the Cattle Area, 15 for Sheep, 10 at the Horses section, 5 with Goats and 20 Stewards with plenty left over for seconds and anyone else that was hungry – our chefs Jon and Andy certainly had their work cut out for them!
There are many good caterers for this type of event but one of the things that makes Hog Roast Halifax stand out is not only the professional service and the very high-quality food, but also the flexibility and adaptability that we have to be able to tailor our menus for the clients' requirements.  This was no exception and we always try to fulfil the client's expectation and requirements and wherever possible surpass them; we always welcome feedback and regularly receive very complimentary comments from young and old alike.  Some of the guests had already sampled our food at previous events that Hog Halifax had catered for and many commented that every time the food has been delicious; feedback from this event was no exception too!