It may well surprise you to know that our professionals at Hog Roast Yeadon have spent many years perfecting our menus to ensure that we provide all kinds of choice and variety at parties and events but we understand that there is often a need for something different to be served. While one of our traditional centrepiece hog roasts will no doubt impress your guests, if you're inviting some people who have allergies or intolerances or who follow a particular diet, or if you have guests who simply prefer a different kind of meat to pork, then our extensive menus will show you that we offer so much more if needed.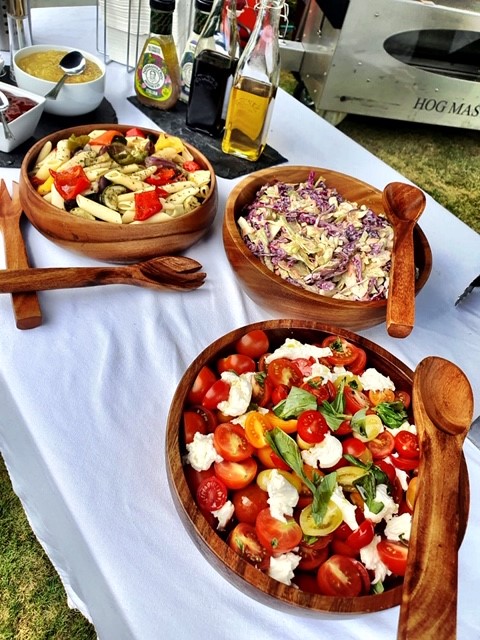 From multi-course menus including a starter, main, sides and dessert, as well as welcome canapés if preferred, to a serving of one of our special menus, like our Loaded Fries and Southern Slow Roast, your taste buds will be tingling just looking over many of our possibilities, and with spit-roasted mains like lamb, beef, turkey or chicken and alternatives like mac and cheese and veggie skewers, Hog Roast Yeadon can easily satisfy all of your guests, regardless of taste, diet or appetite.
Nevertheless, it may be useful to know that our menus are not comprehensive, as if you have specific ideas about the food that you want to be served on your special occasion, just let us know and we'll devise a menu together with you, or you can mix and match items between our menus in order to create your own if preferred.
Sometimes, however, one of our mains is exactly what is needed for a party or event. Over the weekend, our dedicated Hog Roast Yeadon chef and catering assistants catered a business lunch, where we provided a feast for more than fifty guests. Our long-term customer had asked us to make our infamous pigs in buns, where we cram fresh, soft, tender meat and salty crackling inside rolls and wraps and add our own-recipe sage and onion stuffing and apple sauce. On this particular day, all of the guests at the function were bowled over by our version of hog roast rolls and our customer was just as pleased as ever.